Shopping Cart
Your Cart is Empty
There was an error with PayPal
Click here to try again
Thank you for your business!
You should be receiving an order confirmation from Paypal shortly.
Exit Shopping Cart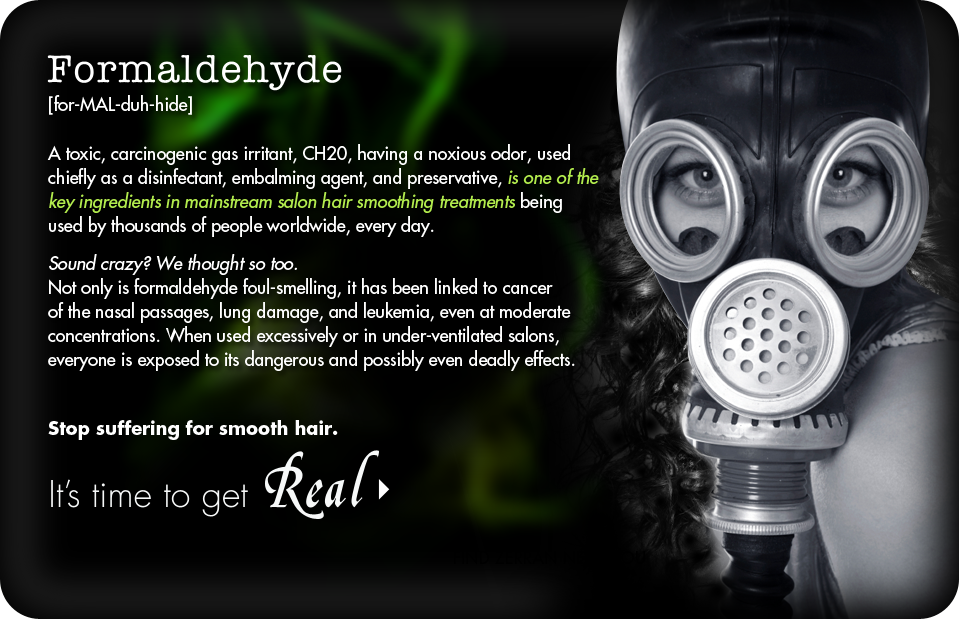 Zerran RealLisseTM
Natural Hair Smoothing System
Zerran ReallisseTM is a patented, botanically based system offering semi-permanent smoothing MINUS the use of formaldehyde or other harsh chemicals. The 100% vegan formulation includes wheat, corn and oat proteins and no keratin or other animal products to relax curl and tame frizzy hair.
This professional system is for salon use only. No chemical or health worries. No irritating fumes or odors. Hair will accept thermal curl. RealLisseTM can be used on hair that is colored or bleached. Smoothing results last 2 to 4 months.
Enjoy ultra smooth, shiny and easy care hair that takes half the time to style. Keep the look and feel of improved natural hair without compromise!
The SystemSalon Pure Air Chemical Fume Extraction  for Hair (Model SPA-H) is appropriate for stylists who prefer the 16″ diameter hood to be positioned above the client's head. It is designed to adsorb and remove formaldehyde, glutaraldehyde, or other vapors generated by the various Keratin Smoothing Treatments.
This Deluxe System is designed for heavy fume removal applications. It includes a patented air filtration media specifically designed to oxidize gaseous pollutants, including, but not limited to, hydrogen sulfide, sulfur dioxide, formaldehyde, glutaraldehyde, ethylene, and mercaptans. Also included is our extended reach self-supporting arm for true overhead positioning, along with an expanded diameter hood.
Both Salon Pure Air Chemical Fume Extraction Systems for Hair offer a specially designed Adsorption Module with a V-Bank configuration, providing high efficiency contaminant removal. This superior design prevents bypass, and provides an even bed thickness. It is designed for use at a maximum air velocity of 250 fpm. Servicing/refilling this module is made simple with a one-piece lid.
In addition, the Salon Pure Air Model SPA-H lowers exposure to a variety of other harmful chemicals generated by additional processes such as coloring, highlighting and permanent treatments.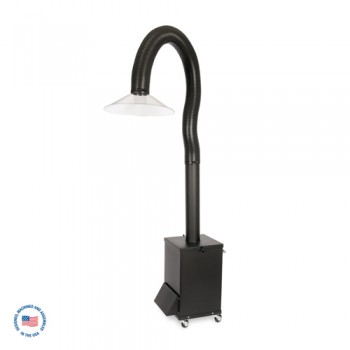 Synonyms:
Formaldehyde 37%; Gluteraldehyde, and Glyoxal
Formalin;
Morbicid Acid;
Methylene Oxide; Methylaldehyde
DMDM hydantoin
SALIDANT PLUS
1,3-Dioxetane (1,3-dioxacyclobutane)
Formic Aldehyde; Methanal; Oxymethane;
Oxymethyline;
Quaternium 15;
Phenol Formaldehyde;
Urea
Oxomethane Formalin
Forms of formaldehyde
Metheneamine
Metheneamine is a chemical and antibacterial agent that belongs to the hormone-disrupting family of chemicals found in body wash, shampoos, facial cleansers, liquid soaps, and shower gels. The other names of Metheneamine are Urotropin, Cystogen, Ammoform, and Ammonioformaldehyde. Metheneamine is proven formaldehyde releaser.
Formaldehyde releasers decompose rapidly to release formaldehyde when dissolved in aqueous solvents. Formaldehyde releasers are used as preservatives in many body and cleaning products. The CIR states that a formaldehyde presence of 0.2% is considered safe. I guess my concern is this: most people use multiple body products and cleaning products daily. For myself I use shampoo, conditioner, soaps, creams, cosmetics, and cleaning products daily.
Formaldehyde is more complicated than many simple carbon compounds because it adopts different forms.
Formaldehyde is a gas at room temperature, but the gas readily converts to a variety of derivatives.
These derivatives generally behave similarly to gaseous formaldehyde and are used in industry. One important derivative is the cycle compound trioxane, the "trimer" of formaldehyde with formula is (CH2O)3. When dissolved in water, formaldehyde converts to H2C(OH)2, a diol (i.e. a compound with two hydroxy groups).
Aqueous solutions of formaldehyde are referred to as formalin. "100%" formalin consists of a saturated solution of formaldehyde (this is about 40% by volume or 37% by mass) in water, with a small amount of stabilizer, usually methanol to limit oxidation and degree of polymerization.
A typical commercial grade formalin may contain 10–12% methanol in addition to various metallic impurities.
The diol also exists in equilibrium with a series of short polymers (called oligomers), depending on the concentration and temperature. The infinite polymer formed from formaldehyde is called paraformaldehyde.
ALBERT EINSTEIN COLLEGE of MEDICINE of YESHIVA UNIVERSITY
DEPARTMENT of ENVIRONMENTAL HEALTH and SAFETY
1
FORMALDEHYDE AWARENESS TRAINING
Substance: Formaldehyde
CAS Registry Number: 50-00-0
Synonyms: Formaldehyde 37%; Formalin; Morbicid Acid; Methylene Oxide, Methyl aldehyde
What is the hazard of Formaldehyde? Formaldehyde is a suspect cancer-causing
chemical. Formaldehyde can also cause irritation to the skin, eyes, and respiratory
tract. It is a strong sensitizer; meaning that it can cause allergic reactions of the skin or
respiratory tract. It may be fatal or cause blindness if swallowed. The liquid and vapor
of formaldehyde are flammable. The adverse effects of exposure to formaldehyde are
related to the level and duration of exposure.
Where can Formaldehyde be found in our workplace? Formaldehyde is commonly
used in our research and anatomy laboratories as a tissue preservative. The stock
solutions can be found usually in glass or plastic bottles on shelves or in cabinets in our
laboratories. Working solutions may be found in tubes or bottles on lab benches, in
fume hoods or in refrigerators. Formaldehyde is also a component of embalming
solutions used to preserve cadavers.
How may I become exposed to Formaldehyde? Exposure to Formaldehyde may
occur by inhaling the vapors, ingesting the liquid or coming in contact (skin or eye
contact) with the liquid vapor.
How may I protect myself from exposure to Formaldehyde? You can protect
yourself from exposure by following the specific laboratory procedures established by
your Principal Investigator for using Formaldehyde. Read the Material Safety Data
Sheet for Formaldehyde before you begin your work. The best way to protect your self
is to use a less hazardous chemical. If this is not possible, use the lowest concentration
of Formaldehyde possible. Formalin is a 10% Formaldehyde solution and can be used
as a preservative. The next best way of protecting yourself is to learn how to work
safely with Formaldehyde. In general, engineering controls such as a properly
operating fume hood are better at protecting a worker than personal protective
equipment such as a respirator, gloves, etc. Work with Formaldehyde must always be
done in a properly working fume hood so that the vapors are directed away from your
breathing zone. You should also wear safety goggles, nitrile gloves and a buttoned lab
coat. Opened toed shoes, sandals, or short pants must not be worn when working with
Formaldehyde. Eating, drinking, or applying cosmetics is not permitted in our
laboratories. After the completion of your work with Formaldehyde, remove your
personal protective equipment and wash your hands thoroughly. All bottles and
containers with Formaldehyde must be clearly labeled. This is also the case for waste
containers with Formaldehyde. Formaldehyde waste disposal is through the
Department of Environmental Health and Safety by completing a Hazardous Waste Pick
Up Form and faxing it or mailing it to Forchheimer 800 or by completing a form on the
EH&S web site: www.aecom.yu.edu/ehs
Formaldehyde
Description:
Formaldehyde (C.A.S. 50-00-0) is a colorless gas with a pungent, suffocating odor. It is often used in an aqueous solution. The primary uses for formaldehyde are for the production of urea-formaldehyde resins (25% produced), phenol- formaldehyde resins (20%), plastics (15%), and intermediates (22%). Urea-formaldehyde resins and phenol-formaldehyde resins are used primarily as adhesives in the manufacture of particle board, fiberboard, and plywood, and for molding, paper treating and coating, textile treating, surface coating, and foams for insulation. Most of the formaldehyde used for the production of intermediates is in the manufacture of acetylenic chemicals; smaller quantities are used in the production of entaerythritol, hexamethylenetetramine, and urea-formaldehyde concentrates.
Formaldehyde has miscellaneous uses in agriculture for seed treatment, soil disinfection, and as a insecticide and fungicide; as a reagent in analysis; to water- and grease-proof concrete and plaster; as a drying agent and preservative in cosmetics; in room fumigants; as a chemical intermediate for dyes, surface-active agents, and processing aids; in embalming as a preservative and hardener of tissues; in histopathology; as a biocide in drilling fluids; as a stabilizer in gasoline; in leather tanning; as a corrosion inhibitor in metal industries; in paper industries as a chemical intermediate for wet-strength and other paper treating resins; as a photographic film hardener; as a starch modifier; to modify fibers in textiles; and in wood preservatives.
Formaldehyde is also used as a treatment for athlete's foot, in cough drops, skin disinfectants, mouthwashes, spermaticide creams, as a disinfectant for vasectomies and root canals, and formerly to sterilize certain cysts prior to surgical removal. In veterinary medicine, it is used as an antiseptic and fumigant in the treatment of tympany, diarrhea, mastitis, pneumonia, and internal bleeding; in association with iodine; it is used as a coccidiostat in chickens.
Chemical properties:
Formaldehyde is a highly flammable gas or a combustible liquid. Vapors may travel to a source of ignition and flash back. Poisonous gases are produced if it catches on fire; containers of formaldehyde may explode in fire. Formaldehyde is miscible with water, acetone, benzene, diethyl ether, chloroform, and ethanol. It is incompatible and reactive with strong oxidizers, alkalis and acids, phenols, and urea. Pure formaldehyde has a tendency to polymerize. Formaldehyde has a short half-life in air because photochemical processes degrade it; it is unstable in water, and highly soluble in water. Formaldehyde is available in the United Sates as its cycle trimer, trioxane, and as paraformaldehyde. Trioxane is a crystalline solid with a chloroform-like odor. It is easily soluble in water, alcohols, ketones, ether, acetone, chlorinated and aromatic hydrocarbons, and other organic solvents. It is slightly soluble in pentane, petroleum ether, and lower paraffins. In nonaqueous systems, trioxane readily converts to monomeric formaldehyde. Paraformaldehyde is available as a powdered or flaked product containing the equivalent of 90-93% formaldehyde, a maximum of 9% water, and a maximum of .03% acidity as formic acid. It is soluble in fixed alkali hydroxide solutions, slowly soluble in cold water, more readily soluble in hot water with evolution of formaldehyde vapors, and insoluble in alcohol and ether. Synonyms for gaseous formaldehyde are methanal, methyl aldehyde, and methylene oxide. A synonym for aqueous solution formaldehyde is formalin.
Identification:
Chemical Name: Formaldehyde
Regulatory Name: Formaldehyde
Formula: (HCHO)
CAS: 50-00-0
STCC: 4966365
UN Number: 3077
Health effects:
Formaldehyde gas is classified as a substance which may reasonably be anticipated to be a carcinogen, according to the Sixth Annual Report on Carcinogens, 1991, published by the National Toxicology Program of the U.S. Department of Health and Human Services. It is classified as a carcinogen in the Environmental Protection Agency's Toxic Release Inventory (TRI). The evidence for a possible involvement of formaldehyde in cancers is strongest for nasal and nasopharyngeal cancer, since the nose and nasopharynx come into direct contact with formaldehyde through inhalation. Exposure to formaldehyde irritates the eyes, nose, and throat, and can cause skin and lung allergies. Higher levels can cause throat spasms and a build-up of fluid in the lungs, leading to death. Contact can cause severe eye and skin burns, leading to permanent damage. These may appear hours after exposure, even if no pain is felt. Formaldehyde can cause an asthma-like allergy. Future exposures can cause asthma attacks with shortness of breath, wheezing, cough, and/or chest tightness. Repeated exposures may cause bronchitis, with symptoms of cough and shortness of breath.
Exposure Values:
IDLH: Ca 20 ppm. Not applicable for Formalin (as formaldehyde), a potential carcinogen. (NIOSH, 1997)
TLV STEL: 0.3 ppm Ceiling limit. Suspected human carcinogen (ACGIH, 1999)
ERPG-1: 1 ppm (AIHA, 1999)
ERPG-2: 10 ppm (AIHA, 1999)
ERPG-3: 25 ppm (AIHA, 1999)
NIOSH REL: Ca TWA 0.016 ppm C 0.1 ppm [15-minute]
OSHA PEL: TWA 0.75 ppm ST 2 ppm
Economics:
U.S. manufacturers of formaldehyde are: Borden Inc, Columbus, OH; BTL Specialty Resins Corp, Warren, NJ; Chembond Corp, Eugene, OR; D B Western, North Bend, OR; E I du Pont de Nemours & Co, Inc, Wilmington, DE; GAF Corp, Wayne, NJ; Georgia-Pacific Corp, Atlanta, GA; Hercules Incorporated, Wilmington, DE; Hoechst Celanese Corp, Somerville, NJ; International Minerals and Chemical Corp, Northbrook, IL; Monsanto Co, North St Louis, Mo.; RVP Corp, White City, OR ; Wright Chemical Corp, Riegelwood, NC.
Regulation:
Under the authority of the Federal Hazardous Substances Act, the Consumer Product Safety Commission requires warning labels on household products containing 1% or more of formaldehyde. It has also banned the use of urea-formaldehyde foam insulation in residences and schools.
The Occupational Safety and Health Administration (OSHA) issues permissible exposure limits for formaldehyde and regulates formaldehyde under the Hazard Communication Standard and as a chemical hazard in laboratories.
EPA regulates formaldehyde under the Clean Air Act; Clean Water Act; Comprehensive Environmental Response, Compensation, and Liability Act (Superfund); Food, Drug, and Cosmetic Act; Resource Conservation and Recovery Act; Superfund Amendments and Reauthorization Act; and Toxic Substances Control Act.
EPA has designated formaldehyde as a hazardous air pollutant, water pollutant, waste constituent, and inert ingredient of pesticide products.
Under Section 313 of the Emergency Planning and Community Right to Know Act of 1986, releases of more than one pound of formaldehyde into the air, water, and land must be reported annually and entered into the Toxic Release Inventory (TRI).
Under Section 302 of the Emergency Planning and Community Right-to-Know Act of 1986, formaldehyde is listed as an Extremely Hazardous substance and has a threshold planning quantity of 500 pounds.
Facilities having a threshold quantity of 15000 pounds of formaldehyde are subject to the Risk Management Program Rule (RMP), Section 112r of the Clean Air Act. The RMP toxic endpoint for formaldehyde is 0.012 mg/L - basis ERPG-2.
OSHA lists formaldehyde as a highly hazardous chemical under the Process Safety Management Standard at a threshold quantity of 1000 pounds.
National Overview of 1998 Toxics Release Inventory
See EPA's Toxic Release Inventory.
Notations:
The NIOSH recommended exposure limits (RELs) are time-weighted average (TWA) concentrations for up to a 10-hour workday during a 40-hour workweek. A short-term exposure limit (STEL) is designated by "ST" preceding the value; unless noted otherwise, the STEL is a 15-minute TWA exposure that should not be exceeded at any time during a workday. A ceiling REL is designated by "C" preceding the value. Any substance that NIOSH considers to be a potential occupational carcinogen is designated by the notation "Ca."
The OSHA permissible exposure limits (PEL) are found in Tables Z-1, Z-2, and Z-3 of the OSHA General Industry Air Contaminants Standard (29 CFR 1910.1000). Unless noted otherwise, PEL are TWA concentrations that must not be exceeded during any 8-hour workshift of a 40-hour workweek. A STEL is designated by "ST" preceding the value and is measured over a 15-minute period unless noted otherwise. OSHA ceiling concentrations (designated by "C" preceding the value) must not be exceeded during any part of the workday; if instantaneous monitoring is not feasible, the ceiling must be assessed as a 15-minute TWA exposure. In addition, there are a number of substances from Table Z-2 (e.g., beryllium, ethylene dibromide, etc.) that have PEL ceiling values that must not be exceeded except for specified excursions. For example, a "5-minute maximum peak in any 2 hours" means that a 5-minute exposure above the ceiling value, but never above the maximum peak, is allowed in any 2 hours during an 8-hour workday.
Information Sources:
CAMEO®, U.S. Environmental Protection Agency, National Oceanic and Atmospheric Administration, www.epa.gov/ceppo.
Chemical Manufacturers Association, 1300 Wilson Blvd., Arlington, VA 22209: (703) 741-5000 or Chemical Referral Library, (800) 262-8200.
National Institute of Environmental Health Sciences, Clearinghouse on Environmental Health Effects, 100 Capitola Drive, #108, Durham, NC 27713; (800) 643-4794; fax (919) 361-9408.
TOXNET, National Library of Medicine, National Institutes of Health; www.toxnet.nlm.nih.gov
U.S. Environmental Protection Agency, 401 M St., SW, Washington, DC 20460; Right to Know Hotline (800) 535-0202.
U.S. Department of Labor, Occupational Health and Safety Administration, Washington, DC, www.osha.gov
OSHA PEL: Z-1 Table: www.osha-slc.gov/OshStd_data/1910_1000_TABLE_Z-1.html
OSHA PEL: Z-2 Table: www.osha-slc.gov/OshStd_data/1910_1000_TABLE_Z-2.html
Return to Index
April 2006
Originally published in Environment Writer by the National Safety Council. Reprinted with permission.
--------------------------------------------------------------------------------
Environment Writer
Metcalf Institute for Marine and Environmental Reporting
University of Rhode Island
Graduate School of Oceanography
Office of Marine Programs
Narragansett, RI 02882
Tel: 401-874-6211; Fax: 401-874-6485
Disclaimer * Copyright 2002-2006 * All rights reserved. * University of Rhode Island
Formaldehyde is the primary cause of methanol's toxicity, since methanol is metabolised into toxic formaldehyde by alcohol dehydrogenase
THE WINNER TO THE HONESTY !
Notes on Formaldehyde
In the U.S. market there is a great deal of confusion – and far too much false advertising - regarding Brazilian Keratin products and formaldehyde. Any professional stylist considering offering a Brazilian Keratin treatment will take the time and effort to get to the truth about these formulas, their potency and their effectiveness.
The Myth of "Formaldehyde Free"
There are a number of keratin formulas on the market claiming to be "formaldehyde free." Technically, this may be correct. Many of these "formaldehyde free" products, however, are likely to contain other "aldehydes," urea, or similar mixes which share the potent characteristics of formaldehyde. Often these compounds convert into a form of raw, unrefined formaldehyde when heated.
Even though QOD Brazilian Keratin formulas do not contain industrially manufactured raw formaldehyde, we choose not to advertise them as "formaldehyde free." We find this to be a disingenuous marketing gimmick. More importantly, it is potentially harmful. If stylists are comforted with a false sense of confidence, believing that a product is "formaldehyde free," they may not follow the same stringent safety protocols they would with other powerful salon products. That would be a mistake.
The bottom line is this:
Any formulation that produces a significant volume-reduction in the hair lasting several weeks is a potent salon product. It should always be treated with healthy respect, and handled in compliance with salon safety protocols by licensed hair professionals only.
There are no exceptions to this, and there are no short cuts to achieving the remarkable, long-lasting effects of a Brazilian Keratin treatment. If a product is truly without formaldehyde or any derivatives, its effects will most likely last only until the next washing. A beautiful flat-iron and blow-out with some nice keratin-based conditioner might last for several days and make a client happy - but this service is not a Brazilian Keratin treatment.
What is Different About QOD Brazilian Keratin?
At QOD COSMETIC, our approach is different. We have always focused on the technology rather than marketing hype, steadily reducing the levels of potent chemicals in our formulas while maintaining – and improving – their long-lasting conditioning and volume reduction effects.
We also respect our clientele, communicating with them frankly and directly about what is involved.
In the U.S. field of relative new-comers to the market, QOD COSMETIC USA stands apart. We have led the world in Brazilian Keratin products for over a decade, and are unique in our expertise. We have developed a cutting edge, patented technique that uses a proprietary compound of actively charged elements to work with the keratin for maximum penetration and effect. With QOD's process, the ratio of potentially harmful chemicals in our keratin formulas goes way down. This is particularly true in the formulation of QOD GOLD. Click here to learn more...
Several products that have been very successful in the U.S market still rely on a low grade mix of raw, potent ingredients – sometimes coupled with a misleading marketing campaign. These formulas may be effective at volume reduction, but the treatment experience will be far less pleasant – and the results less optimal - than with a QOD formula that has been systematically refined through years of research and testing.
Communicating With Clients
Most of us have a greater level of awareness than ever before regarding chemical content and potential risk. QOD's clients are no exception. You are forward-thinking, high-end stylists and salon owners who seek to understand the products you are using and do not fall for marketing hype. You tend to gravitate towards the highest quality, best performing products available, and you expect to receive complete information about them.
Many of your clients, for their part, wish to be informed about the chemical content of products used on their hair. Some may be concerned about formaldehyde, and have probably heard about "formaldahyde free" products. We suggest you explain to your clients the difference between "formaldehyde-free" and "chemical-free." Go over the potential risks of using a true Brazilian Keratin formula, and demonstrate how you have salon safety protocols in place to protect them. They will appreciate your professionalism – and they will love their hair!
/