Shopping Cart
Your Cart is Empty
There was an error with PayPal
Click here to try again
Thank you for your business!
You should be receiving an order confirmation from Paypal shortly.
Exit Shopping Cart
http://www.hairholistic.net/1/archives/10-2013/1.html
MCI™ (Multi-cluster Ionization) is a patented technology which enhances the traditional PCO process to cover a broader area of living space.  32K means this unit is suited for indoor environments up to approximately 32,000 cuft based on normal contamination levels, common air flow patterns and properly sized HVAC systems.
Check out our brand new BLS Enhanced Warranty for this product!
The MCI32K is one of the most advanced and most versatile whole house air purification systems on the market today. Using four advanced technologies, the MCI32K helps to eliminate odors, smoke, pollen, dust, bacteria, mold, carbon monoxide, pet dander, viruses, and much more. Noticeable pollution is eliminated in as little as 15 minutes, and the most difficult pollution in as few as 24 hours.
Unlike other air purifiers that have only one or two ways of eliminating pollution, the MCI32K has four advanced technologies to destroy pollution from the air, embedded in walls, ceilings, floors, carpets, furniture, clothing, on countertops and other surfaces. These technologies help to sanitize everything in the house and reduces or eliminates all odors, including cigarette smoke, mildew, cooking odors, and more. The advanced variable frequency drive fan system of the MCI32K runs quietly. In addition, the MCI32K is very low maintenance and requires no filter replacement. You simply clean the electrostatic honeycomb and mesh filter with running water! The MCI32K is ideal for any room in your home where airborne and surface pollution may be present.
Features:
5 fan speeds controlled by a variable frequency drive for quiet operation

Exclusive Photo Catalytic Oxidation technology

Needlepoint and RF ion generation

Washable rear filter

Intelligent maintenance reminders

Adjustable purifier control - 250 to 3000 square feet

Away Mode timer for high purification levels in unoccupied spaces

Full function remote control

Low energy consumption

Universal AC/DC power supply

Eliminates smoke & odors - doesn't cover them up

Significantly reduces mold, bacteria, and viruses

Replaceable 

NO OZONE

MCI Cell and Purification Plate
Specs:
Ozone Output: 360 mg/hr (in Away Mode optional on ceramic plate)

FIVE Technologies

Needlepoint Ionization

RF Pulse Ionization

Scalable Ozone Generation (using ceramic plate)

Patented NO OZONE MCI/PCO Technology (UV-C, Titanium Dioxide)

Electrical: 100V-240V/50-60Hz 45W - Operational Anywhere in the World

Ozone Density: <0.05mg/m³ (high mode), 1.5mg/m³ (away mode)

Ion Generation: 1 million/cm³

Coverage: Up to 3000ft²

Display: STN LCD
*MCI™ stands for multi-cluster ionization whose brand terminology is owned by Best Living Systems, LLC as of 06/01/2011
The SystemSalon Pure Air Chemical Fume Extraction  for Hair (Model SPA-H) is appropriate for stylists who prefer the 16″ diameter hood to be positioned above the client's head. It is designed to adsorb and remove formaldehyde, glutaraldehyde, or other vapors generated by the various Keratin Smoothing Treatments.
This Deluxe System is designed for heavy fume removal applications. It includes a patented air filtration media specifically designed to oxidize gaseous pollutants, including, but not limited to, hydrogen sulfide, sulfur dioxide, formaldehyde, glutaraldehyde, ethylene, and mercaptans. Also included is our extended reach self-supporting arm for true overhead positioning, along with an expanded diameter hood.
Both Salon Pure Air Chemical Fume Extraction Systems for Hair offer a specially designed Adsorption Module with a V-Bank configuration, providing high efficiency contaminant removal. This superior design prevents bypass, and provides an even bed thickness. It is designed for use at a maximum air velocity of 250 fpm. Servicing/refilling this module is made simple with a one-piece lid.
In addition, the Salon Pure Air Model SPA-H lowers exposure to a variety of other harmful chemicals generated by additional processes such as coloring, highlighting and permanent treatments.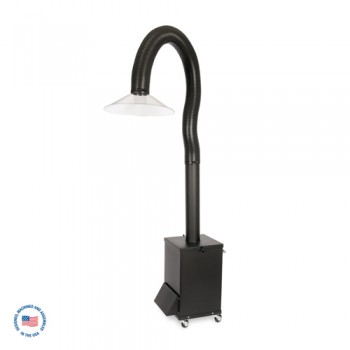 does coconut oil have moisturising properties? Nneka asks, if coconut oil fully penetrates the shaft then is it appropriate to use it as a sealant?
I'll answer these questions with a diagram. Moisturising in cosmetic research is not about adding water to hair but rather increasing or maintaining the hold of water. Water needs companions to be upgraded to a moisturiser
t does penetrate the hair but this does not stop it from coating the outside of the cuticle which it does. The amount of oil that can enter the hair is limited, so naturally most of the oil will sit on the surface. J Cosmet Sci,52(3):169-84 (2001).
2. Coconut oil has been used as a prewash treatment in half head tests where half the head is treated with oil and the other half isn't. The hair was combed post wash and there was significantly less damage/breakage on the coconut oil treated section (meaning much much less protein was collected from the comb). J Cosmet Sci., 50, 327-339 (1999)
So the debate will always rage on about whether oils are moisturising or not. I think that coconut oil is unique because much like water it can penetrate the hair. It's moisturising properties arise because it is an oil and therefore can help the hair hold on to the water. I don't think that coconut oil can be used on its own though, I think it needs some companions too......like water
Surfactants cleanse and build foam by acting at the surface between fat and water (surface-active agents or surfactants). They are able of being mixed with water and fat of the skin, allowing dirt to be removed. Based on their cleansing power surfactants are classified into primary and secondary or co-surfactants. Based on the chemical structure there are anionic, amphoteric, non-ionic, and quaternary agents. Surfactants form the base of all personal cleansing products and can also have wetting, conditioning, defatting, emulsifying, & thickening effects.
Surfactants are also very useful for homemade soaps (particularly liquid soaps) to improve lathering and decrease harshness. They are added to the oil-lye mixture during the boiling procedure. Surfactants greatly accelerate and improve the soap making process.
SLS (sodium lauryl sulphate). It has this reputation as an extremely drying terrible ingredient. However, there is a reason why it is used in shampoo.
Imagine washing your hair with just plain water.
From a chemical view point, scrubbing your hair and using warm water will help dislodge some oil, but really not that much
Washing your hair with SLS containing shampoo
When a surfactant such as SLS is used, oil can be dissolved away from the hair. The hair is left squeaky clean and oil free. This is because SLS can form micelles which help carry the oil away during the rinsing of the shampoo.
Now not everyone wants squeaky clean hair. Curly hair does pretty well with some oil on it. However if you are trying to get rid of a silicone product, have too much oil on your hair or have used a product that you didn't like and your conditioner isn't helping you, some SLS shampoo may actually work to give you a clean slate.
HAZARDOUS CHEMICAL SUBSTANCE LIST
Chemical Name
Toxic Effects
Occurrence
Precautions
ACETIC ACID
In weak concentrations, acetic acid can be a mild skin and eye irritant.
Oxidizing materials (trace).
ACETONE
(dimethyl ketone)
Prolonged inhalation can cause headache, dryness, and throat irritation.
Nail glue remover, polish remover, nail sterilizer, and brush cleaner.
Some alkaline silicates can cause fibrotic changes (scarring) of lung tissue.
ALKYLATED SILICATES
Alkylated Silicates affect skin as mild caustic agents, causing damage to the keratin layer. Chronic exposure to alkalinity can lead to a skin condition that resembles eczema.
Bleach powders.
Aminophenol is a mixture that has three isomers. Para-, Ortho- and Meta-aminophenol.
AMINOPHENOL
A.) Para-aminophenol has high to moderate oral toxicity. A skin and eye irritant. Allergic sensitivities can develop to the material
B.)Ortho-aminophenol is found to be moderately toxic when introduced to the system via ingestion. It is a skin and eye irritant.
C.)Meta-aminophenol is found to be moderately toxic when introduced to the system via ingestion. It is a skin and eye irritant.
Oxidation hair color.
Overexposure can cause conjunctivitis, swelling of eyelids, coughing, dyspnea and vomiting. Corneal burns can result from eye contact.
AMMONIA
A powerful eye and respiratory tract irritant.
Alkaline wave lotions bleach oils, oxidation hair dyes, permanent wave solutions, and permanent hair color.
High toxicity via oral and inhalation routes.
AMMONIUM HYDROXIDE
A powerful eye irritant.
Hair spray (trace), waving lotions, thioglycolate waving lotions, and oxidation dyes.
It can be a fire hazard if it is reacted with organic materials or reducing agents such as acids. It is a strong oxidizing agent. The material must be stored carefully as it readily decomposes.
AMMONIUM PERSULFATE
A moderate tissue irritant and allergen.
Bleaching agents, pre-lighteners.
This material can cause dermatitis and is a strong allergen.
AMMONIUM THIOGLYCOLATE
High toxicity via oral and inhalation routes.
Permanent waving solution.
A skin and eye irritant.
BENZYL ALCOHOL
Moderate toxicity via ingestion and inhalation.
Permanent waving solutions.
Butane is an asphyxiant. Breathing the gas may cause drowsiness.
Butane is a dangerous fire/explosion risk.
BUTANE
Moderate toxicity via inhalation.
Nail enamel dryer, aérosol propellants (MANP)
The material is a strong respiratory irritant.
BUTOXYETHANOL (ethylene glycol monobutyl ether)
Moderately toxic via ingestion, a mild to moderate skin and eye irritant.
Direct non-oxidation dyes.
In high concentrations the material can cause respiratory irritation and narcosis.
n-BUTYL ACETATE
A skin and eye irritant, low toxicity via ingestion, inhalation. It is a mild allergen.
Nail lacquer.
Local exposure yields irritation.
CAMPHOR
High to moderate irritation, ingestion hazard.
Hair relaxer.
A skin and eye irritant.
CETYL ALCOHOL
Low oral toxicity, an irritant.
Hair relaxer.
EDTA is found in products as either tetrasodium or dessiatine salt. It reacts chemically to "bind" metals.
EDTA
(ethylene diamine tetracetic acid)
Eye irritation. High oral toxicity.
Shampoo (trace), Penn neutralizer, and thioglycolate permanent
Experimentally, ethanolamine causes severe eye irritation. It is a caustic material, which causes moderate
Chemical Name Toxic Effects Occurrence Precautions
waves, products that remove coatings from hair.
burns. Inhalation tolerance is low.
ETHANOLAMINE mea
Tissue damage. Oral toxicity.
Waving lotions, oxidation dyes.
Repeated exposure can cause conjunctivitis and corneal clouding. High concentrations can cause congestion of the liver and kidneys. It is a dangerous fire risk.
ETHYL ACETATE
Causes irritation to mucous linings in eyes, respiratory tract and gums. It can act as a mild narcotic. It can also cause dermatitis.
Nail lacquer solvent.
It is oxidized by the liver to form carbon dioxide and water. It is generally not considered an occupational health hazard, however it is a safety hazard due to its flammability.
ETHYL ALCOHOL
(S.D. Alcohol)
The term "S.D.A." or "S.D. Alcohol" means ?specifically denatured alcohol?. S.D.A. is ethyl alcohol, to which another substance, such as methyl isobutyl ketone, has been added, making it unfit for human consumption.
Hair spray, setting lotions, mousse, conditioner, nail sterilizer. Ethyl alcohol is familiar as the alcohol in beverages.
In low concentrations, the material can cause skin irritation. Products containing hydrogen peroxide must be capped and stored securely.
HYDROGEN PEROXIDE
Concentrated solutions are highly toxic and strong irritants. Solutions of 35% can blister the skin. The material is a powerful oxidant, which readily reacts to release oxygen, and can therefore be a dangerous fire and explosion risk.
Oxidation hair dye developer, neutralizers for permanent waves, hair lighteners, peroxide based neutralizers, permanent wave activator solutions, oxidizers, and enzyme developers.
A dangerous fire risk when exposed to heat, flame or oxidizers.
ISOBUTANE
(2-methyipropane)
A simple asphyxiant, this material is otherwise practically non-toxic.
Aerosol propellants.
The material can de-fat and dry the skin. The material is a physical hazard due to its high flammability.
ISOPROPYL ALCOHOL
Eyes, nose, and throat irritant. In high air concentrations it can induce mild narcosis and can cause corneal burns and eye damage.
Permanent dye, hair spray, nail enamel dryer, oil hair dressing, hair styling mousse, setting gels/lotions, bleach oils, semi-permanent and oxidation hair dyes, and peroxide-based neutralizers.
Liquefied petroleum gas is a mixture of propane, isobutane, isobutylene, and other short chain hydrocarbons. The material is a simple asphyxiant, and its chief health hazard is attributable to its high flammability.
GLYCEROL
Low toxicity generally, but can be a respiratory irritant when in mist form.
Mousse, oxidation hair colors, permanent hair colors, LPG (liquefied petroleum gas) hairspray propellants.
A moderate fire risk when exposed to heat, flame, or oxidizers.
METHACRYLIC ACID (glacial)
A strong skin irritant
Acrylic, nail-bonding
agents.
Vapors can cause lung irritation and pulmonary edema. Prolonged exposure can cause dermatitis, liver and brain damage. It is a suspected carcinogen. The body metabolizes methylene chloride to carbon monoxide. Heavy smokers and those with cardiovascular disease or
METHYLENE CHLORIDE (dichiloromethane)
Very dangerous to the eyes; vapors have narcotic properties, which include fatigue, headache, and dizziness.
Nail enamel dryer, oil hair dressing aerosols.
Serious fire hazard and risk
MINERAL SPIRITS
Moderately irritating to skin, eyes, and mucous membranes.
Hairdressings, hair sprays.
An experimental carcinogen and mutagen.
PHENACETIN
Toxic via inhalation and ingestion routes.
Peroxide-based neutralizers.
This material is a powerful skin irritant, which is implicated as a cause of aplastic anemia and is a suspected carcinogen.
PARA-PHENYLENEDIAMINE or ppd
When used in hair dye, it has been known to produce vertigo, anemia, gastritis, exfoliative dermatitis, and is suspect in at least one death.
Oxidation hair dyes, permanent hair dyes, semi-permanent hair dyes.
A skin, eye, and respiratory tract irritant.
PHOSPHORIC ACID
A skin, eye and respiratory tract irritant.
Oxidizers, neutralizers.
The material will liberate oxygen when exposed to heat or chemicals, and is therefore a moderate fire risk. It will decompose if not stored properly.
POTASSIUM PERSULFATE
A moderate tissue irritant and allergen.
Bleach powders, lightener powders.
A skin and eye irritant.
PROPYLENE GLYCOL
A skin and eye irritant.
Oxidation hair dye base, semi-permanent hair dye base, hair relaxer, and thioglycolate, permanent wave lotion.
This material can cause serious eye and skin injury in susceptible individuals. If the material is in a carrier, which can be absorbed through the skin, local hyperemia (flushing), itching, dermatitis, edema, and possibly corrosion of the skin can occur. Local lymph gland swelling may also occur.
RESOKCINOL
Primarily a skin irritant.
Oxidation hair dyes.
Prolonged exposure to crystalline silica dust can lead to fibrotic changes (scarring) of lung tissue, however the health hazard is minimal if exposure is controlled. Fumed silica is found in some products. Colloidal type silica does not pose the toxic risks of the crystalline type.
SILICAS
Silica in dust form can constitute an inhalation hazard.
Frosts, activator powders.
Concentrated solutions are strong irritants to skin and other tissues.
SODIUM BISULFITE
The material is an allergen.
Oxidation shampoos.
Prolonged exposure to dilute solutions can cause burns and ulceration of skin and other tissues and can cause severe eye damage.
SODIUM PEROXIDE
Toxic by ingestion and may cause severe burns to the skin and scalp.
Hair relaxer, thioglycolate permanent waves, waving gel.
An oxidizer, which needs to be stored carefully, as the material decomposes in moist air.
SODIUM PERSULFATE
A strong tissue irritant, toxic by ingestion.
Bleach powders, lightener powders.
Toxic by ingestion.
TETRASODIUM PYROPHOSPHATE
Toxic by ingestion.
Oxidizers (trace).
Hydrogen sulfide gas derived from this material. Irritant to skin and eyes.
THIOGLYCOLIC ACID
Corrosive to mucous membranes.
Waving lotions, oxidation dyes.
The material can react violently with lithium and other metals.
TITANIUM DIOXIDE
A skin irritant, which is also an experimental neoplastic and tumorogenic agent.
Hair relaxers, dyes, nail powder.
Eye irritant, toxic when ingested.
TRICRESYL PHOSPHATE
Eye irritant.
Nail lacquer.
Vapors have narcotic action and can cause headache and nausea. The material is an experimental mutagen.
TOLUENE
Chronic toluene overexposure can lead to changes in the blood-forming organs (bone marrow).
Nail lacquer solvent.
Chemicals - MMA and the Salon Professional
It is important for all salon workers, not just for the nail technicians, to be aware of the dangers from the use of MMA (methyl methacrylate) monomer and its dangers to the skin and nail.
Methyl Methacrylate Liquid Monomers
In years past, methyl methacrylate (MMA) was a routinely used ingredient in professional nail products. These products were often referred to as "dental acrylics" or "porcelain nails". However from the start there seem to be serious problems resulting from the use of MMA. The Food and Drug Administration (FDA) had received so many complaints related to the use of MMA that in the late 1970s, the FDA was forced to take action against a number of the manufacturers of these products.
MMA-related complaints ranged from skin allergy to permanent loss of the nail plate. It can also cause loss of sensation in the fingertips. As the problem became more serious, the FDA warned manufacturers the further use of MMA in nail enhancement products formulated with MMA were considered too dangerous for use in the beauty industry.
In 1972 MMA gained further notoriety when the Food and Drug Administration (FDA) deemed it a "poisonous and deleterious" ingredient when used in liquid monomer and got a court ordered injunction prohibiting a particular nail product manufacturer from selling MMA monomer. These actions by the FDA sent MMA into the underground industry. In 1996, the FDA restated its position and opposition to the use of MMA.
MMA – Monomer vs. Polymer Powders
Nail technicians who are aware of the dangers of MMA are often confused when they discover that some acrylic powders contain this ingredient. The problems described above do not apply to the use of MMA polymers. In the fully polymerized and solid form, the substance is considered safe. When MMA is converted into a polymer, it is called "poly methyl methacrylate," or PMMA. In the polymer form, PMMA is chemically identical to Plexiglas or Lucite and is considered safe for use on natural nails.
MMA in the Salon
Why do Salons still use MMA? MMA is popular because it sets up fast and adheres like no other product can or should. Above all, it is cheap. You can purchase a gallon at a fraction of the cost of the name brand ethyl methacrylate monomer. MMA nails bond so firmly to the natural nail and are so hard that instead of snapping safely off the natural nail when jammed or caught, they hold tight, causing painful breaks and rupture of the natural nail.
Additionally, MMA can cause serious skin reactions and incessant nail damage, not excluding permanent nail loss.
Studies indicate that long-term exposure to the nail technician and other salon employees can result in permanent damage to the liver and respiratory system.
MMA Product Detection
To determine if a product has MMA as part of its composition here are three simple things to watch for:
• Produces nail extensions that are extraordinarily durable and very hard to file, even with unyielding abrasives.
• Produces nail extensions that will not dissolve for removal in solvents designed for acrylics.
• Exhibits a powerful and peculiar odor that is considerably different than that of other acrylic liquids.
The Nail Manufacturers Council fully supports the FDA's position and recommends against nail technicians using liquid monomers, which are formulated with MMA. They believe that the significant danger to salon employees and clients makes the use of MMA both unwise and unethical. In their opinion, the health risks and public relations problems created by the illegal use of MMA seriously threaten the entire professional nail industry. Hopefully MMA is not being used in your salon. If you suspect that it is you should learn as much as you can about the dangers and health risks and then make a decision as to whether you want to remain in that environment.
Hair
Hair protects the body from heat loss and ultraviolet rays. The root of the hair shaft is termed the hair follicle. A nerve ending surrounds the bulb of each hair follicle below the skin. Additionally glands secrete an oily substance directly onto the hair follicle, lubricating the hair shaft and providing an acid pH environment that protects the hair. This as in skin is called the acid mantle.
Hair is composed of three different layers; the first is the medulla (the center, the pith or marrow of the hair shaft), the cortex (the middle layer, containing pigment or color), and the cuticle (the outside layer). The chemical composition of hair is 50.65% carbon, 6.36% hydrogen, 17.14% nitrogen, 5.00% sulphur, and 20.85% oxygen. It made up of the protein keratin (also found in skin and nails). The joining of amino acids forms keratin protein. The fact that the acids join at some places along the protein chain makes keratin relatively resistant to change.
Like other mammals, humans are covered by hair. Human body hair is much finer than that of our mammalian counterparts, and is concentrated primarily on
72
http://greenlifeorganics.mionegroup.com/en/toxic



If you want to stay away from these chemicals stay out of mainstream drug stores, department stores, and grocery stores. You can also make you own cosmetic products, which I will discuss later. Start shopping for body care products at Natural food stores but this is no guarantee. Some so-called natural companies are better than others. You still have to learn to read labels before you purchase or use anything on your body. Think of it this way; don't put anything on your skin that you wouldn't eat. Look for products made from herbs and plants found in nature.

Beware of these following claims:

1. Not tested on animals. Just because the finished product wasn't tested on animals doesn't mean that the individual chemicals in the product weren't!

2.Natural- Means absolutely nothing.

3.Organic-Only one ingredient in the formulation has to be organic for this claim to be made.

Avoid Certain Ingredients:

I can't possibly mention all the ingredients to avoid. Rule of thumb, if you can't pronounce it don't use it. Here are just a few:

1) Methyl, Propyl, Butyl, and Ethyl Parabens- Preservatives derived from petroleum used in 99% of all hair and skin products today and in many so-called 'natural' products. They are highly toxic, mimic estrogen, cause hormone imbalances, and are linked to reproductive cancer. They may play a role in falling sperm counts and rising breast cancer rates. Companies use these because they are extremely cheap and they extend the shelf life of the product by inhibiting microbial growth.

2.) Formaldehydes: DMDM hydantoin, Quaternium 15, Diazolidinyl Urea, Imidazolidinyl Urea, 2-bromo-2-nitropropane-1, 3-diol-Widely used as preservatives second only to the parabens. They release formaldehyde at just over ten degrees. They are known to be irritating to mucus membranes, can cause an inability to urinate, skin rashes, internal bleeding, and are known carcinogens.

2) Sodium Lauryl Sulfate and Sodium Laureth Sulfate (SLS)-This toxic synthetic (used for its foaming properties) is a harsh detergent believed to case urinary tract, bladder, and kidney infections, genital disorders, eye irritations, skin rashes, hair loss, scalp problems similar to dandruff, and allergic reactions. It forms carcinogenic nitrogen compounds when combined with specific ingredients. It penetrates the skin and has long-term retention in the body. Almost every "regular' conventional shampoo contains it. Also found in toothpaste. It is frequently disguised in so called "natural" cosmetics with the explanation that the source is " from coconut."

3) Synthetic Colors- Labeled as FD&C or D&C, followed by a color number (such as FD&C Yellow 6) Developed from coal tar, aluminum salts, and lead. Lead toxicity primarily targets the nervous system, kidneys, bones, heart, blood and poses greatest risk to infants, young children, and pregnant women. Many colors are considered to be cancer causing. Some dyes are a risk to asthmatics, eczema sufferers and people sensitive to aspirin. Some cause hyperactivity in children, severe headaches, blurred vision and itchy/watery eyes and nose. (When you wear lipstick with these colors--and most contain them--you are EATING them!)

4) Synthetic Fragrances-When a label simply lists "fragrance," it can refer to any combination of up to 200 cheap, synthetic, toxic ingredients that can cause headaches, dizziness, rashes, skin discoloration, violent coughing, vomiting, and allergic skin irritation. Fragrances can affect the central nervous system causing depression, hyperactivity, irritability, inability to cope, and other behavioral changes. They mimic estrogen, remain in body fat, and have been found in mother's breast milk.

5). Parraffin -Derived from petroleum in the form of wax, mineral oil or petrolatum jelly. Paraffins promote sun damage, as well as coating the skin and interfering with the body's own natural moisturizing mechanism. They mimic estrogen. They create the very conditions they claim to alleviate. Manufacturers use petrolatum because it is unbelievably cheap. Found in chap sticks, lip sticks, lotions, and other personal care products.

6.) Aluminum -Aluminum is mostly absorbed through the skin, lungs, and intestinal tract. Too much aluminum may cause problems with metabolic processes, particularly those concerning calcium, phosphorus and iron. Aluminum may also contribute to Alzheimer's disease, Parkinson's disease, dementia, and other neurological disorders. It is carcinogenic, toxic and mutagenic; a coloring agent found in eye shadows, toothpastes, hair dyes, antiperspirants, lipsticks and more.

7.) Sunscreen-Avoid conventional sunscreens. Avoid these ingredients: Octyl-Dimethyl-Para-Amino-Benzoic Acid and Oxybenzone. Research shows that a factor in skin cancer may be a result of the sunscreen chemicals absorbing into our skin and the toxins mutating in the hot sun. Look for natural sunscreen with Titanium Dioxide (a mineral) and other natural ingredients.

Other list of ingredients to avoid (not all inclusive): PROPELYNE GLYCOL, DMDM HYDRATOIN, TEA (Triethanolamine)/ DEA (Diethanolamine) , BEHENTRIMONIUM CHLORIDE, MERCURY, THIMEROSAL, LEAD ACETATE, FORMALDEHYDE, TOLUENE, PETROLEUM DISTILLATES, ETHYLACRYLATE, COAL TAR, DIBUTYL PHTHALATE, SELENIUM SULFIDE, DIMETHYLAMINE, ZIRCONIUM SILICATE, ACRYLAMIDE, PHENYLPHENOL, HEXACHLOROPHENE, LIDOCAINE, HYDROXYANISOLE, BHA, LITHIUM CARBONATE, DIMETHYL SULFOXIDE, IODINE, PHENACETIN, PHENOLPHTHALEIN, PROGESTERONE, ALUMINUM ZIRCONIUM TETRACHLOROHYDREX GLYCINE COMPLEX, ANHYDROUS, FERRIC AMMONIUM CITRATE, 2- AMINO- 4- NITROPHENOL, BRUCINE, DIPHENHYDRAMINE HCL, TETRAHYDROZOLINE HYDROCHLORIDE, LIDOCAINE HCL, 2- METHYLOXIRANE, HYDROABIETYL ALCOHOL, LITSEA CITRATA (VERBENA) OIL, DIETHANOLAMINE CETYL PHOSPHATE, TALC, LANOLIN, GLYCOLIC ACID, BISMUTH OXYCHLORIDE . . .

Most of the information from this article I got from: http://www.beautytruth.net/


Sodium lauryl sulfate, sodium laureth sulfate are alkyl sulfates and are surfactants widely used in most shampoos, toothpaste, lotions and creams today. Labeling regulations allow "derived from coconut oil" which is untrue today because they are synthetically produced now from petroleum but was true in the 1940's when originally developed. The chemical industry considers them to be some of their most gentle cleansers for the skin and hair, especially sodium laureth sulfate. In high concentrations they both are very irritant, drying to skin, hair, irritating to eyes, caused damages like cracking, severe inflammation and cause allergic reactions. They both have a lot of potential to become contaminated with nitrosamines. Sulfates are used to manufacture these synthetic surfactants and are harmful to marine life and the environment.
Alkyloamides have actions that are thickening, gelling, emulsifying, foam boosting, foam stabilizing and opacifying, which changes appearance from clear to cloudy, sometimes making white pearl-like appearance. 4 Main groups of alkyloamides are: diethanolamides (DEA), monoethanolamides (MEA), monoisopropanolamides (MIPA), ethoxylated or PEG alkanolamides. All are harmful to environment and can become contaminated with nitrosamines.
Amodimethicone is silicone fluid used to give a smooth feel which causes allergic reactions.
CA-24 (chloroacetamide) also known as acidamide is used as antimicrobial in shampoos and bath lotions at concentrations up to 0.3%. People have had allergic reactions from it using as little as 0.1% dilution. The European Economic Community requires label warnings on products containing chloroacetamide.
Cocoamide DEA is a synthetic foam stabilizer and thickener which may be contaminated with carcinogenic nitrosamines.
Cocamidopropyl betaine causes eyelid dermatitis.
Sodium Myeth Sulfate is a synthetic detergent and not biodegradable.
DMDM Hydantoin is a form of formaldehyde and is used as a preservative.
Ext. D&C Color certified as safe for drugs and cosmetics, not for food. It is a synthetic, coal tar color and is toxic. Coal tar has been shown to be carcinogenic in animal tests and many people are allergic to it.
Ext. D&C Violet #2 is in the anthraquinone family of coal tars which is made from phthalic anhydride and benzene. This chemical mix causes tumors in lab rats and causes serious skin rashes. Benzene is a petrochemical solvent known to cause depression, convulsions, coma and death with prolonged exposure suspected to cause leukemia. Even inhaling the vapors can be absorbed through the skin and cause irritation.
Formaldehyde is a suspected carcinogen and found in many preservatives including the hydantoins. It's extremely toxic when inhaled or swallowed. Nearly half of all people exposed to it experience a toxic reaction. In the past the FDA banned formaldehyde in cosmetics but is still used in shampoos. EEC requires label disclosure if it used in a certain percentage.
Glyceryl Stearate S.E. a synthetic used for a pearlizing effect, emulsifier and opacifier (changes appearance from clear to cloudy) which can cause irritation and clogged pores.
Imidazolidinyl urea (also known as Germall and phenoxyethanol) is a synthetic preservative that can release formaldehyde at temperatures over 50 degrees Fahrenheit.
Irgasan DP 300 ( also named Triclosan) is phototoxic, an environmental pollutant because hydrocarbons are known to pollute the air, water and land, and a suspected carcinogen because it comes from coal tar.
Lauramide DEA is a surfactant, foam-builder, can be irritating to the skin and can be contaminated with nitrosamines.
Laureth 1-40 a synthetic surfactant and foaming agent.
Laurylmyrist-oleamidosulfo-succinate a synthetic fatty alcohol used as a dispersant and a surfactant that causes allergic reactions and damages the environment.
Linoleamidopropyl ethly dimonium ethosulfate can be contaminated with carcinogenic nitrosamines.
Methylparaben a synthetic preservative.
Mineral Oil is manufactured from petroleum and causes allergic reactions with topical use and many be phototoxic.
Propylene Glycol is considered safe by the FDA and is a petrochemical used in antifreeze and brake fluid. It is a cheap synthetic humectant and emulsifier made from mineral oil. Sweet and natural vegetable glycerin would do just as well and not be harmful. It's use as a humectant and moisturizer is questionable because it replaces and repels important components for healthy skin. Skin functions on water and propylene acts as a replacement for water but the skin can't use it. A low concentration of it is advised in products but you will often find it near the top of the ingredient list indicating a high concentration. High level of usage is a considered a possible cause of increasing liver and kidney related health problems. In 1991 a report to the American Academy of Dermatologists showed it to cause a significant number of reactions and was a primary irritant to the skin even in low levels of concentration.
Quaternary ammonium salts including stearalkonium chloride, quaternary-15 (a fungicide) are used in the paper and fabric industries, as fabric softeners, water repellents, anti-static agents and corrosion inhibitors. They are very common in hair conditioners and crème rinses. While initially giving a soft feel to hair they eventually make the hair dry and brittle also causing skin rashes and allergic reactions and environmental harm. The agents in conditioners and crème rinses can build up and coat the hair to such an extent that it takes stronger and harsher shampoos to lift the film. Quaternary-15 has caused severe sensitivities to medical drugs.
Nitrosamines All "amines" and "amides" are capable of forming N-nitroso compounds which, in animal experiments, have been found to be quite carcinogenic. One in particular that occurs in many cosmetics is identified as NDELA N-nitrosodiethanolamine which according to a 1977 FDA report is a potent carcinogen. The chemical, TEA (triethanolamine), extensively used in cosmetics is the one primarily suspected of creating NDELA. DEA (diethanolamine) is another one capable of forming NDELA. Not much press has been given to this subject but one consumer magazine has recommended not using products containing TEA or DEA. One study reported over 40% of TEA containing products tested contained nitrosamines.
Health conscious individuals take care to avoid eating food containing nitrates but even typical use of a shampoo contaminated with NDELA can lead to even higher levels of absorption than eating it.
Nitrosamines are contaminants of chemical based cosmetic products. Contamination can occur during many stages of manufacturing including certain pH balances, water solutions and in storage and shipment from the seams in the metal drums. Because of the chemical nature of common preservatives used in these conventional products, they either do not protect from nitrosamine formation or they actually contribute to further contamination.
Examples of typical ingredients likely to be contaminated with nitrosamines:
sodium lauryl sulfate, TEA-lauryl sulfate, ammonium lauryl sulfate, sodium laureth sulfate, TEA laureth sulfate, ammonium laureth sulfate, lauroyl sarcosine, cocoyl sarcosine, sodium lauroyl sarcosinate, sodium cocoyl sarcosinate, potassium coco-hydrolyzed animal protein, formaldehyde, hydrolyzed animal protein, imidazolidinyl urea, monethanolamine (MEA), quaternium-7, 15, 31, 60 etc., disodium oleamide sulfosuccinate, sodium dioctyl sulfosuccinate, sodium methyl oleoyl sulfate and sodium lauryl isoethionate, sodium methyl cocoyl taurate, sodium nitrite, 2-bromo-2-nitropropane-1,3-diol.
Europe Bans 22 Hair Dye Chemicals
The following substances will be banned:
6-Methoxy-2,3-Pyridinediamine and its HCl salt2,3-Naphthalenediol2,4-Diaminodiphenylamine2,6-Bis(2-Hydroxyethoxy)-3,5-Pyridinediamine2-Methoxymethyl-p-Aminophenol4,5-Diamino-1-Methylpyrazole and its HCl salt4,5-Diamino-1-((4-Chlorophenyl)Methyl)-1H-Pyrazole Sulfate4-Chloro-2-Aminophenol4-Hydroxyindole4-Methoxytoluene-2,5-Diamine and its HCl salt5-Amino-4-Fluoro-2-Methylphenol SulfateN,N-Diethyl-m-AminophenolN,N-Dimethyl-2,6-Pyridinediamine and its HCl saltN-Cyclopentyl-m-AminophenolN-(2-Methoxyethyl)-p-phenylenediamine and its HCl salt2,4-Diamino-5-methylphenetol and its HCl salt1,7-Naphthalenediol3,4-Diaminobenzoic acid2-Aminomethyl-p-aminophenol and its HCl saltSolvent Red 1 (CI 12150)Acid Orange 24 (CI 20170)Acid Red 73 (CI 27290)


If you are not sure, use this toxic ingredient directory below and find out for yourself.


This information has been sourced from Material Safety Data Sheets (or MSDS),







/