Shopping Cart
Your Cart is Empty
There was an error with PayPal
Click here to try again
Thank you for your business!
You should be receiving an order confirmation from Paypal shortly.
Exit Shopping Cart
SERVICES & PRODUCTS INFO-BLOG
Corona virus Temporarily client protocol 
In efforts to continue open our doors as long this virus outbreak allow it , we are adapting a few steps to reduce the exposure .
"social distancing."
The idea here is that now that this virus is out in the community and we have no medical way to prevent its spread, it's up to us to keep far enough away from other people that we decrease the odds that we'll get sick.And remember, because many people can be contagious despite having no or mild symptoms, "social distancing" doesn't just mean avoiding people who cough—it means staying a safe distance away from other people.
CDC recommended :6 feet distant
As a temporarily measures :
Please consider rescheduling if:
-feel sick with in 2 weeks
-traveled yourself or any relative had traveled within 2 weeks .
-We love kids but please leave them home .
- Seriously consider it if you have any pre existing conditions .
WHAT TO EXPECT 
-please bring hand sanitizer , we are doing our best but it's very hard to get it ,our supply it's getting low .
- bring older clothes just in case our disposable capes are generic fit .
-Expect a call from us
- Before arriving to your appointment Call or text , we will be preparing the space to have your service .
-please wait in your car till we respond we are ready to star service .
-as soon you coming please wash your hands .
- highly suggest while you are processing , politely to wait in your car to avoid gathering in a closed space .We will try to reduce crow as posible.
-let us know any other suggestions to be consider
Thanks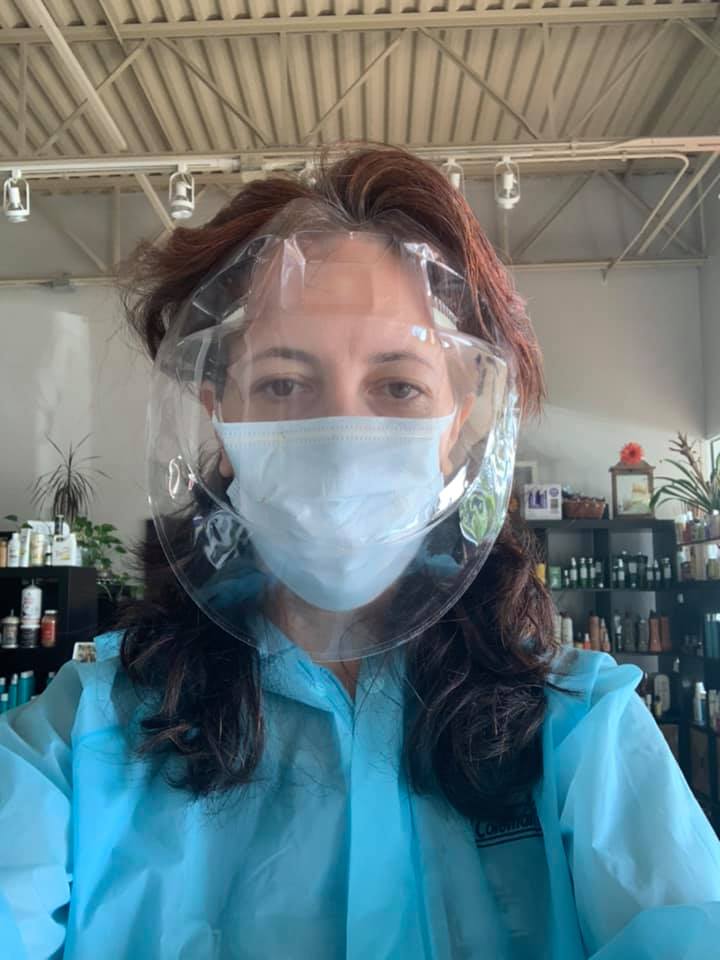 Organic Curl Systems is a revolutionary product, which is free from ammonia and thioglycolates. Enriched with plant amino acids, it works around the natural pH level of the hair, which is left undamaged by the process. The key trend in today's perms is soft curls, full of volume and movement which is exactly what Organic Curl Systems accomplishes. It is a revolutionary perming, relaxing, and straightening product which contains Cysteamin HCL, an ingredient far gentler than chemical based perms. The neutraliser system contains plant amino acids, which soothe and condition the scalp. The hair is left with a natural feel and shine.
Organic Curl Systems works between pH 4.5 and 6.5, depending on how much activator is added and leaves the hair at its natural pH level, so it is undamaged by the perming process. Organic Curl Systems is suitable for all hair types, even damaged hair.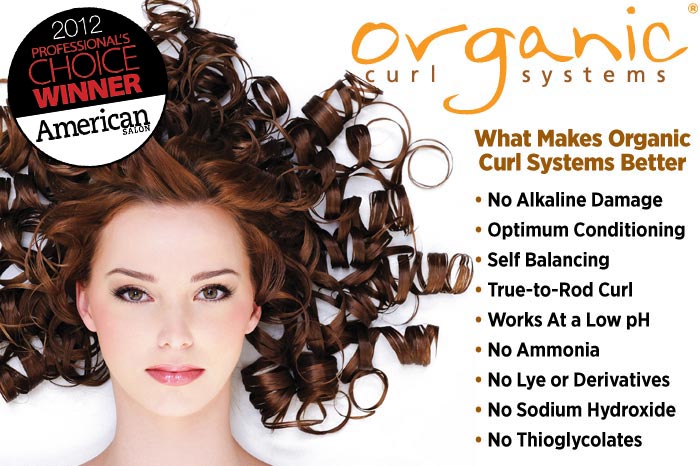 http://www.organiccolorsystems.com/wp-content/uploads/2014/07/organic-curl-systems-perm-full-line.jpg
The neutralizer is rich in wheat and soy protein, which are natural hair conditioners and moisturizers. This  increases protein levels and strengthens the hair.


No Ammonia
No Thioglycolates
Certified Organic Extracts
Superb Curl Retention
Natural Healthy Bounce
Can Relax & Straighten Too
INGREDIENTS
•Cysteamine HCL
•Oleth-10
•PVP  ( HAIR HOLISTIC DO NOT RECOMEND PVP'S)
•Amodimethicone
•Cetrimonium Chloride
•Trideceth-12
•Pentasodium Pentetate
•BHA
The Keratin Treatment is also knows as Brazilian Keratin Treatment, Brazilian Straightening System, Progressive Straightening, Brazilian Blowout and Escova Progressiva among others.
WHAT IS IT?
It is a revolutionary process that softens, shines, and makes the hair healthy.
It penetrates the hair repairing internal damage and coats the hair preventing further damage. The results are smooth, silky hair. It is not a chemical that restructures the hair. It is a replenishing treatment that reconditions and protects the hair from water and heat damage while enhancing it's natural shine.
The Brazilian hair treatment is excellent on all types of chemically treated hair (bleached, hi-lights, colored, permed, relaxed or previously straightened. It is excellent for getting rid of curly, frizzy, damaged, unhealthy, dull, mistreated hair.
The Brazilian treatment is made up of "Keratin" a liquid form of hair. There are no harsh chemicals. The Brazilian treatment can be used on children (6 years and older), teens and adults (men and women).
The Brazilian treatment DOES NOT use strong chemicals to open and close the hair cuticle in an effort to straighten it. It only coats the hair. It does not break the bonds of the hair shaft like straightners do. Keratin is a natural substance which comprises approximately 88% of your hair.
-------------------------------------------------------------------------------------------------------------------
Brazilian treatment is not permanent. It naturally fades out of the hair. The hair will stay soft, shiny and healthy looking. The more you do the treatment the better condition the hair becomes. The treatment also makes the hair very manageable. It will require less blow drying time and results will be very good with a flat iron.
The Keratin Treatment is an innovative process that transforms the hair in its entirety. The treatment is keratin based, keratin is the primary protein of the skin, hair and nails. This natural substance gives hair the ability to return to its original healthy, shiny, smooth state.
Unlike other products available in the market, such as relaxers or the Japanese thermal conditioning, the Keratin Treatment straightens the hair without damaging or changing its texture. The treatment can be use in all hair types, including chemically treated hair (colored, permed, relaxed, highlighted and bleached).
The Keratin Treatment is also knows as Brazilian Keratin Treatment, Brazilian Straightening System, Progressive Straightening, Brazilian Blowout and Escova Progressiva among others.
The application process lasts anywhere from 1.5 to 4 hours depending on the length and thickness of the hair. After product is applied, it is sealed with a hot iron which traps moisture, hydrates the hair and creates a glossy finish. Results are visible immediately after treatment is completed, clients are amazed to say the least. Hair looks healthy and youthful, it resembles children's hair.
Taking care of the hair after the Keratin Treatment is applied is effortless. The amount of time required to style hair will decrease , . Others require some blow drying and minimum styling time. This treatment restores hair resiliency: humidity, rain or sweat will no longer affect the hairstyle. No more frizzy hair!
The results last two to four months, the treatment fades progressively as hair is washed. As clients repeat the treatment every few months or so, you will be able to observe the improved quality of hair grown after the Keratin Treatment was applied.
This revolutionary process was developed in Brazil, and is now available in the US and other markets in North America, Latin America and Europe
HOW DOES IT WORK?
When it comes to keratin, tough is good. Its strong protective qualities improve the hair both inside and out. Our unique biopolymer ingredient is virtually a "liquid form of hair" that gently blends with the hair on your head. It brings to hair what it was lacking to begin with and what it has lost over the years. Is the hair dull dry and damaged? Is it curly, wavy, frizzy, overly voluminous or unmanageable? Application of our keratin treatment puts an end to all that. The smaller keratin molecules penetrate the hair cortex improving and repairing the quality of the hair from the inside. The added strength, elasticity and moisture result in the smooth, soft, shiny and straightened effect. The larger molecules coat the hair cuticle and take the environmental insults such as UV rays, smog, and smoke for your hair on the outside. Further damage to the hair shaft is prevented.
the global keratin product is out of market .
the company is base now in united states and they change the name and the ingredients too.
they are: GK hair TAMINH SYSTEM WITH JUVENIX
they are using:
Methanediol, also known as formaldehyde monohydrate or methylene glycol
I DO NOT USE IT ANY LONGER
AS A CONCLUSION ,IN MY OPINION,THIS PRODUCT IS:
A mix of natural and synthetics compounds with a some toxicity, mild irritating agent; and very common use on the cosmetic industry in America.
All this is base on my research on the internet,
Be aware of any change made by the FDA or any other agency in charge of inform about the toxicity of this products.
You must follow the manufactured directions about how to be use.
THE INGREDIENT LIST, UNDER,ARE COMMONLY USES IN KERATINE
TREATMENTS
Glycerin
Glycerol is a chemical compound with the formula HOCH2CH(OH)CH2OH. This colorless, odorless, viscous liquid is widely used in pharmaceutical formulations. Also commonly called glycerin or glycerine, it is a sugar alcohol, and is sweet-tasting and of low toxicity.
Glycerol has three hydrophilic alcoholic hydroxyl groups that are responsible for its solubility in water and its hygroscopic nature.
Commonly use in foods and beverages, glycerol serves as humectants, solvent and sweetener, and May help preserve foods. It is also used as filler in commercially prepared low-fat foods (i.e., cookies), and as a thickening agent in liqueurs. Glycerol also serves as a way, along with water, to preserve certain types of leaves. Glycerol is also used as a sugar substitute. In this regard, it has approximately 27 calories per teaspoon and is 60% as sweet as sucrose. Although it has about the same food energy as table sugar, it does not raise blood sugar levels, nor does it feed the bacteria that form plaques and cause dental cavities. As a food additive, glycerol is also known as E number E422.
Pharmaceutical and personal care applications
Glycerol is used in medical and pharmaceutical and personal care preparations, mainly as a means of improving smoothness, providing lubrication and as humectants. It is found in cough syrups, elixirs and expectorants, toothpaste, mouthwashes, skin care products, shaving cream, hair care products, and soaps.
As a 10% solution, glycerol prevents tannins from precipitating in ethanol extracts of plants (tinctures). It is also used as a substitute for ethanol as a solvent in preparing herbal extractions. It is less extractive and is approximately 30% less able to be absorbed by the body. Fluid extract manufacturers often extract herbs in hot water before adding glycerin to make glycerites.
Used as a laxative when introduced into the rectum in suppository or liquid (enema) form; irritates the bowel and induces a hyper osmotic effect.
Glycerol is a component of glycerol soap, which is made from denatured alcohol, glycerol, sodium castorate (from castor), sodium cocoate, sodium tallowate, sucrose, water, and parfum (fragrance). Sometimes one adds sodium laureth sulfate. This kind of soap is used by people with sensitive, easily-irritated skin because it prevents skin dryness with its moisturizing properties. It is possible to make glycerol soap at home.
It is also used in de-/anti-icing fluids
ETHER PG-1
Also look PEG
Propylene glycol, PG is an organic compound (a diol alcohol); usually a tasteless, odorless, and colorless clear oily liquid that is hygroscopic and miscible with water, acetone, and chloroform.
Propylene glycol is considerably less toxic and may be labeled as "non-toxic antifreeze". It is used as antifreeze, in food-processing. It is also used in food, medicines, and cosmetics, often as a binding agent. Propylene glycol is "generally recognized as safe" by the Food and Drug Administration (FDA) for use in food.
Propylene glycol is a diatomic alcohol. It can form mono- and di- ethers and esters being treated with alcohols or acids respectively
Polypropylene glycol or polypropylene oxide is the polymer of propylene glycol. Chemically it is a polyether. The term polypropylene glycol or PPG is reserved for low to medium range molar mass polymer when the nature of the end-group, which is usually a hydroxyl group, still matters.
Polyethers
Polyethers are compounds with more than one ether group. While the term generally refers to polymers like polyethylene glycol and polypropylene glycol, low molecular compounds such as the crown ethers may sometimes be included.
polymer
Is a substance composed of molecules with large molecular mass composed of repeating structural units, or monomers, connected by covalent chemical bonds? The word is derived from the Greek, "many" "part". Well known examples of polymers include plastics, DNA and proteins.
While the term "polymer" in popular usage suggests "plastic", polymers comprise a large class of natural and synthetic materials with a variety of properties and purposes. Natural polymer materials such as shellac and amber have been in use for centuries. Biopolymers such as proteins (for example hair, skin and part of the bone structure) and nucleic acids play crucial roles in biological processes. A variety of other natural polymers exist, such as cellulose, which is the main constituent of wood and paper.
Safety
Cases of propylene glycol poisoning are related to either inappropriate intravenous use or accidental ingestion by children. The oral toxicity of propylene glycol is very low. In one study, rats were provided with feed containing as much as 5% PG over a period of 104 weeks and they showed no apparent ill effects. Because of its low chronic oral toxicity, propylene glycol is generally recognized as safe (GRAS) for use as a direct food additive.
Serious toxicity will occur only at extremely high intakes over a relatively short period of time that results in plasma concentrations of over 4 g/L. Such levels of ingestion would not be possible when consuming reasonable amounts of a food product or dietary supplements containing at most 1 g/kg foodstuff.
The U.S. Food and Drug Administration (FDA) has determined propylene glycol to be "generally recognized as safe" for use in food, cosmetics, and medicines. Like ethylene glycol, propylene glycol affects the body's chemistry by increasing the amount of acid. Propylene glycol is metabolized into lactic acid, which occurs naturally as muscles are exercised, while ethylene glycol is metabolized into oxalic acid, which is toxic.
However, propylene glycol is not approved for use in cat food. The U.S. Food and Drug Administration have determined that propylene glycol in or on cat food has not been shown by adequate scientific data to be safe for use. Use of propylene glycol in or on cat food causes the feed to be adulterated and in violation of the Federal Food, Drug, and Cosmetic Act. 21CFR589.1001
Prolonged contact with propylene glycol is essentially non-irritating to the skin. Undiluted propylene glycol is minimally irritating to the eye, and can produce slight transient conjunctivitis (the eye recovers after the exposure is removed). Exposure to mists may cause eye irritation, as well as upper respiratory tract irritation. Inhalation of the propylene glycol vapors appears to present no significant hazard in ordinary applications. However, limited human experience indicates that inhalation of propylene glycol mists could be irritating to some individuals. Therefore inhalation exposure to mists of these materials should be avoided. Some research has suggested that propylene glycol not be used in applications where inhalation exposure or human eye contact with the spray mists of these materials is likely, such as fogs for theatrical productions or antifreeze solutions for emergency eye wash stations.
Propylene glycol does not cause sensitization and it shows no evidence of being a carcinogen or of being genotoxic.Post menopausal women who require the use of an estrogen cream may notice that brand name creams made with propylene glycol often create extreme, uncomfortable burning along the vulva and perianal area. In these cases, patients can request that a local compounding pharmacy make a "propylene glycol free" cream which is much more tolerable.
Research has suggested that individuals who cannot tolerate propylene glycol probably experience a special form of irritation, but that they only rarely develop allergic contact dermatitis. Other investigators believe that the incidence of allergic contact dermatitis to propylene glycol may be greater than 2% in patients with eczema.
Patients with vulvodynia and interstitial cystitis may be especially sensitive to propylene glycol. Women struggling with yeast infections may also notice that some OTC creams can cause intense burning.
MENTHA ARVENSIS LEAF EXTRACT
Mentha arvensis (Corn Mint) is a species of mint native to the temperate regions of Europe and western and central Asia, east to the Himalaya and eastern Siberia.
It is an herbaceous perennial plant growing to 10–60 cm (rarely to 100 cm) tall. The leaves are in opposite pairs, simple, 2–6.5 cm long and 1–2 cm broad, hairy, and with a coarsely serrated margin. The flowers are pale purple (occasionally white or pink.
Behentrimonium Chloride
also known as docosyltrimethylammonium chloride or BTAC-228, is an irritating, toxic, and slightly flammable yellow waxlike organic compound with chemical formula CH3(CH2)21N(Cl)(CH3)3 , used as an antistatic agent and a disinfectant. It is commonly found in cosmetics such as conditioners, hair dye, and mousse, and also in detergents. In water treatment, it acts as an algaecide.
Cetrimonium Chloride
Cetrimonium chloride is a topical antiseptic.
Cetrimonium bromide ((C16H33)N(CH3)3Br) is one of the components of the topical antiseptic cetrimide. The cetrimonium (or hexadecyltrimethylammmonium) cation is an effective antiseptic agent against bacteria and fungi.
It is a cationic surfactant. Its uses include providing a buffer solution for the extraction of DNA. It is also widely used in hair conditioning products.The closely related compounds cetrimonium chloride and cetrimonium stearate are also used as topic antiseptics, and may be found in many household products such as shampoos and cosmetics.
Hydrolyzed Keratin
Hydrolyzed Protein is protein that has been hydrolyzed or broken down into its component amino acids. While there are many means of achieving this, two of the most common are prolonged boiling in a strong acid or strong base or using an enzyme such as the pancreatic protease enzyme to stimulate the naturally-occurring hydrolytic process.
Hydrolysis is a chemical reaction or process in which a chemical compound is broken down by reaction with water.[1][2] This is the type of reaction that is used to break down polymers. Water is added in this reaction.
In organic chemistry, hydrolysis can be considered as the reverse or opposite of condensation, a reaction in which two molecular fragments are joined for each water molecule produced. As hydrolysis may be a reversible reaction, condensation and hydrolysis can take place at the same time, with the position of equilibrium determining the amount of each product.
Guar Hydroxyprpyl Trimonium Chloride
it is a chemical found in many popular shampoos like Organics or Head & Shoulders. It is a water-soluble quaternary derivative of natural guar gum, and imparts conditioning properties to shampoos and after-shampoo hair care products. The effects of the cationic charge density, guar concentration in aqueous solution, and treatment time on bleached European hair were studied. An Instron method developed by M.L. Garcia and J. Diaz (2) was successfully applied to determine the efficacy of cationic guars to improve the ease of combing. The results were confirmed in a shampoo formulation on both virgin and bleached hair.
.
Methylcloroisotiazolinone.
is a preservative with antibacterial and antifungal effects within the group of isothiazolinones. It is effective against gram-positive and gram-negative bacteria, yeast and fungi.
It is found in many water-based personal care products and cosmetics.[1] It is also used in glue production, detergents, paints, fuels and other industrial processes.
The International Agency for Research on Cancer (IARC), does not list methylchloroisothiazolinone as a known, probable or possible human carcinogen[3], nor have in vivo tests found evidence of carcinogenic activity. Methylchloroisothiazolinone is an allergen(contact dermatitis)
Cyclopentasiloxane /Dimethiconol /Dimethicone Crosspolyme
as a conclusion all thouses ingredients above are silicone base:
Silicones are largely inert compounds with a wide variety of forms and uses. Typically heat-resistant, nonstick and rubberlike, they are frequently used in cookware, medical applications, sealants, lubricants and insulation.
Cyclopentasiloxane
is a silicone fluid commonly used in cosmetics such as deodorants, sunblocks and hair sprays. It is becoming more common in hair conditioners, as it makes the hair easier to brush without breakage. It is also used as part of silicone based personal lubricants.However,if you use to much on your skin it can stay in your body tissue for over 5 years. Cyclopentasiloxane is an emollient
Dimethiconol
COSMETIC FLUIDS are silicone compounds containing various combinations of elastomers in a variety of diluents. These products vary in viscosity, volatility, feel, shine, lubricity, and water resistance.
Grades of COSMETIC FLUIDS are based on solids, diluents, and elastomer derivatives. These variations give a wide range of characteristics when formulating products.
COSMETIC FLUIDS have become a popular additive to hair shine products including serums, gels, micro-emulsions, and refractive index based products. They can also be used as excellent lubricants due to their "non-greasy feel". They perform well in conditioners, sun products, anti-perspirants, cremes, and lotions.
also provides specialty COSMETIC FLUIDS that can be used as silicone delivery systems for active ingredients including Retinol, analgesics, and sunscreens without a greasy afterfeel.
Cyclopentasiloxane /Dimethiconol /Dimethicone Crosspolymer
Silicone Elastomer Blend is a mixture of a high molecular weight silicone elastomer (dimethicone crosspolymer) in cyclomethicone (D4 < href="http://www.blogger.com/wiki/Triglyceride">triglycerides. It can also be obtained from the hydrogenation of some unsaturated vegetable oils. Common stearic acid is actually a mix of stearic acid and palmitic acid, although purified stearic acid is available separately.
Uses
Esters are a class of chemical compounds and functional groups. Esters consist of an inorganic or organic acid in which at least one -OH (hydroxy) group is replaced by an -O-alkyl (alkoxy) group. The most common type of esters are carboxylic acid esters (R1-C(=O)-O-R2); other esters include phosphoric acid, sulfuric acid, nitric acid, and boric acid esters. Volatile esters often have a smell and are found in perfumes, essential oils, and pheromones, and give many fruits their scent. Ethyl acetate and methyl acetate are important solvents; fatty acid esters form fat and lipids; and polyesters are important plastics. Cyclic esters are called lactones. The name "ester" is derived from the German Essig-Äther (literally: vinegar ether), an old name for ethyl acetate. Esters can be synthesized in a condensation reaction between an acid and an alcohol in a reaction known as esterification.
Ether is a class of chemical compounds which contain an ether group — an oxygen atom connected to two (substituted) alkyl or aryl groups — of general formula R–O–R'.[1] A typical example is the solvent and anesthetic diethyl ether, commonly referred to simply as "ether" (ethoxyethane, CH3-CH2-O-CH2-CH3)
THE FOLLOWING ETHERS ARE COMMON USE ON COSMETICS
PPG-2 BUTYL ETHER
The Polypropylene Glycol (PPG) Stearyl Ethers are polypropylene ethers of stearyl ether that function as skin-conditioning agent in cosmetic formulations.
PPG-2 Butyl Ether vapor was nontoxic by the inhalation route. Undiluted PPG-15 Stearyl Ether was practically nonirritating to the eyes of rabbits, and PPG Butyl Ethers had minor to moderate conjunctival irritation, opacity, and iritis
PPG-2 Butyl Ether caused minor, transient erythema and desquamation during a 4-hour occlusive patch test. PPG-2 Butyl Ether did not irritate the skin of pregnant mice, was nontoxic to dams, and was not teratogenic.
These data were considered by the Cosmetic Ingredient Review Expert Panel to support the safety of PPG Stearyl Ethers at their current use concentrations (2% to 10%, but not greater than 25%). Data on the component ingredients, Propylene Glycol, PPG, and Steraryl Alcohol, from previous cosmetic ingredient safety assessments were also considered and found to support the safety of PPG Stearyl Ethers.
(PMID: 11800052 [PubMed - indexed for MEDLINE])
Poly (ethylene glycol) PEG
is produced by the interaction of ethylene oxide with water, ethylene glycol or ethylene glycol oligomers.[2] The reaction is catalyzed by acidic or basic catalysts. Ethylene glycol and its oligomers are preferable as a starting material instead of water, because it allows the creation of polymers with a low polydispersity (narrow molecular weight distribution). Polymer chain length depends on the ratio of reactants.
Depending on the catalyst type, the mechanism of polymerization can be cationic or anionic. The anionic mechanism is preferable because it allows one to obtain PEG with a low polydispersity. Polymerization of ethylene oxide is an exothermic process. Overheating or contaminating ethylene oxide with catalysts such as alkalis or metal oxides can lead to runaway polymerization which can end with an explosion after few hours.
Polyethylene oxide or high-molecular polyethylene glycol is synthesized by suspension polymerization. It is necessary to hold the growing polymer chain in solution in the course of the polycondensation process. The reaction is catalyzed by magnesium-, aluminium- or calcium-organoelement compounds. To prevent coagulation of polymer chains from solution, chelating additives such as dimethylglyoxime are used.
Alkali catalysts such as sodium hydroxide NaOH, potassium hydroxide KOH or sodium carbonate Na2CO3 are used to prepare low-molecular polyethylene glycol.
Clinical uses
Polyethylene glycol has a low toxicity[2] and is used in a variety of products. It is the basis of a number of laxatives (e.g. macrogol-containing products such as Movicol and polyethylene glycol 3350, or MiraLax or GlycoLax). It is the basis of many skin creams, as cetomacrogol, and sexual lubricants, frequently combined with glycerin. Whole bowel irrigation (polyethylene glycol with added electrolytes) is used for bowel preparation before surgery or colonoscopy and drug overdoses. It is sold under the brand names GoLYTELY, GlycoLax, Fortrans, TriLyte, and Colyte. When attached to various protein medications, polyethylene glycol allows a slowed clearance of the carried protein from the blood. This makes for a longer acting medicinal effect and reduces toxicity, and it allows longer dosing intervals. Examples include PEG-interferon alpha which is used to treat hepatitis C and PEG-filgrastim (Neulasta®) which is used to treat neutropenia. It has been shown that polyethylene glycol can improve healing of spinal injuries in dogs.[3] One of the earlier findings that polyethylene glycol can aid in nerve repair came from the University of Texas (Krause and Bittner).[4] Polyethylene glycol is commonly used to fuse B-cells with myeloma cells in monoclonal antibody production. PEG has recently been proved to give better results in constipation patients than tegaserod.[5]
PEG is being used in the repair of motor neurons damaged in crush or laceration incidence in vivo and in vitro. When coupled with melatonin, 75% of damaged sciatic nerves were rendered viable
PEG is used in a number of toothpastes as a dispersant; it binds water and helps keep gum uniform throughout the toothpaste. It is also under investigation for use in body armor[9] and tattoos to monitor diabetes.[10] Functional groups of PEG give polyurethane elastomers their "rubberiness", for applications such as foams (foam rubber) and fibers (spandex). Its backbone structure is analogous to that of silicone, another elastomers their "rubberiness", for applications such as foams (foam rubber) and fibers (spandex). Its backbone structure is analogous to that of silicone, another elastomer.
Elastomers, the science …
Elastomers are a polymer with the property of elasticity. The term, which is derived from elastic polymer, is often used interchangeably with the term rubber, and is preferred when referring to vulcanisates. Each of the monomers which link to form the polymer is usually made of carbon, hydrogen, oxygen and/or silicon. Elastomers are amorphous polymers existing above their glass transition temperature, so that considerable segmental motion is possible. At ambient temperatures rubbers are thus relatively soft (E~3MPa) and deformable. Their primary uses are for seals, adhesives and molded flexible parts.
A is a schematic drawing of an unstressed polymer. The dots represent cross-links. B is the same polymer under stress. When the stress is removed, it will return to the A configuration
Elastomers are usually thermo sets (requiring vulcanization) but may also be thermoplastic (see thermoplastic elastomer). The long polymer chains cross-link during curing. The molecular structure of elastomers can be imagined as a 'spaghetti and meatball' structure, with the meatballs signifying cross-links. The elasticity is derived from the ability of the long chains to reconfigure themselves to distribute an applied stress. The covalent cross-linkages ensure that the elastomer will return to its original configuration when the stress is removed. As a result of this extreme flexibility, elastomers can reversibly extend from 5-700%, depending on the specific material. Without the cross-linkages or with short, uneasily reconfigured chains, the applied stress would result in a permanent deformation.
Temperature effects are also present in the demonstrated elasticity of a polymer.
Elastomers that have cooled to a glassy or crystalline phase will have less mobile chains, and consequentially less elasticity, than those manipulated at temperatures higher than the glass transition temperature of the polymer.
It is also possible for a polymer to exhibit elasticity that is not due to covalent cross-links, but instead for thermodynamic reasons.
Thermosetting plastics (thermo sets) are polymer materials that cure, through the addition of energy, to a stronger form. The energy may be in the form of heat (generally above 200 degrees Celsius), through a chemical reaction (two-part epoxy, for example), or irradiation.
Thermoses materials are usually liquid or malleable prior to curing, and designed to be molded into their final form, or used as adhesives.
The curing process transforms the resin into a plastic or rubber by a cross-linking process. Energy and/or catalysts are added that cause the molecular chains to react at chemically active sites (unsaturated or epoxy sites, for example), linking into a rigid, 3-D structure. The cross-linking process forms a molecule with a larger
Molecular weight, resulting in a material with a higher melting point. During the reaction, when the molecular weight has increased to a point so that the melting point is higher than the surrounding ambient temperature, the material forms into a solid material. Subsequent uncontrolled reheating of the material results in reaching the decomposition temperature before the melting point is obtained. A thermo set material cannot be melted and re-shaped after it is cured.
Thermo set materials are generally stronger than thermoplastic materials due to this 3-D network of bonds, and are also better suited to high-temperature applications up to the decomposition temperature of the material. They do not lend themselves to recycling like thermoplastics, which can be melted and re-molded.
Some examples of thermo sets are:
Thermoplastic Elastomers (TPE), for example Hytrel®, etc. Thermoplastic Vulcanizates (TPV), for example Santoprene® TPV Polyurethane rubber the proteins resilin and ELASTIN
ELASTIN
Cells in the epidermis contain a structural matrix of keratin which makes this outermost layer of the skin almost waterproof, and along with collagen and elastin, gives skin its strength. Rubbing and pressure cause keratin to proliferate with the formation of protective calluses — useful for athletes and on the fingertips of musicians who play stringed instruments. Keratinized epidermal cells are constantly shed and replaced
Keratins are a family of fibrous structural proteins; tough and insoluble, they form the hard but no mineralized structures found in reptiles, birds, amphibians and mammals. They are rivaled as biological materials in toughness only by chitin.
There are various types of keratins within a single animal,the α-keratins in the hair (including wool), horns, nails, claws and hooves of mammals[
AS A CONCLUSION ,IN MY OPINION,THIS PRODUCT IS:
A mix of natural and synthetics compounds with a some toxicity, mild irritating agent; and very common use on the cosmetic industry in America.
All this is base on my research on the internet,
Be aware of any change made by the FDA or any other agency in charge of inform about the toxicity of this products.
You must follow the manufactured directions about how to be use.
http://www.en.wikipedia.org/ - http://www.pubmed.com/ - Google searching engine
These ingredients, at the bottom, are the new breed of hair product on the market
The characteristics on Cyclopentasiloxane (and) dimethicone (and)
Dimethicone cross polymer
Keep hair looking and feeling healthy. They have recently
Ed studies proving that silicones can protect hair from thermal
Treatments (like blow drying, curling and/or straightening with
Irons and other heat sources) and silicones prevent moisture loss.
The technology
Silicones are thermally stable and spread easily on hair. These silicones produce a protective film that helps to prevent water loss—the key to avoiding cuticle cracks and breaks while contributing to improved sensory characteristics of hair.
Now you can protect thermally treated hair and prevent moisture l o s!
Create the next generation of hair care products today. Learn
Performance-enhancing materials can help you create products that protect hair from heat damage, retain hair moisture and sensory
Thermo gravimetric (TGA) analyses showed that a range of different Silicones would help prevent moisture loss when hair was
Subjected to heat
Alcohol Anonymousor "of sheep, whale sperm and coconut meat"
By James Whittall
MenEssentials PresidentPublished November 2004
For too many men's skin care aficionados, the word "alcohol" evokes something akin to ideological partisanship.
Alcohol, I often hear argued, is part of an axis of evil that includes surfactants, waxes, fillers, and celebrity fragrances.
Alcohol dries the skin. It irritates freshly shaven faces. According to one massively idiotic yet widely quoted "Consumer Dictionary," cosmetic alcohol is a poisonous petroleum-derived elixir that causes headaches, flushing, dizziness, mental depression, nausea, vomiting, narcosis, coma, and projectile flatulence. Wow.
Given everything we think we know about alcohol in cosmetics, it's a wonder our fathers survived their Aqua Velva years without slipping into a collective toxic-shock induced stupor.
In fact, cosmetic alcohol is not a single ingredient but many. These highly specialized chemicals aren't the twisted spawn of evil-doers but instead perform different functions and affect the skin in different ways – most often with surprisingly beneficial results.
Also in fact, the so-called "alcohol-free" products sitting on your shelf right now very likely contain some anonymous form of alcohol. And if you find that shocking (gasp), you'll be doubly surprised to learn that a few more of your most cherished beliefs about alcohol are probably wrong.
http://www.menessentials.com/oxid.php/sid/x/shp/oxbaseshop/cl/info/tpl/alcohol.tpl
All Nutrient Keratin+ Treatment
Now clients can have that sleek, smooth, stylish look no
matter what their hair type. All-Nutrient Keratin+ Treatment,
a Cuticor Cellular MicropHusion System, not only lasts,
but over time will actually heal damaged porous hair,
restoring perfect health. Reverse the harmful effects of sun,
beach, pools, chemical damage, hot styling tools and
more in a gentle keratin process made with certified organics
and renewable rainforest resources.
The beauty industry is being transformed through the new technology
and science of All-Nutrient...naturally.
http://www.all-nutrient.com/msds/Receptor.pdf
check MSDS
http://www.all-nutrient.com/msds/MicropHusion.pdf
Enjoy ultra smooth, shiny and easy care hair that takes half the time to style. Keep the look and feel of improved natural hair without compromise!
881 e palmetto park rd - Boca raton Florida 33432
does coconut oil have moisturising properties? Nneka asks, if coconut oil fully penetrates the shaft then is it appropriate to use it as a sealant?
I'll answer these questions with a diagram. Moisturising in cosmetic research is not about adding water to hair but rather increasing or maintaining the hold of water. Water needs companions to be upgraded to a moisturiser
t does penetrate the hair but this does not stop it from coating the outside of the cuticle which it does. The amount of oil that can enter the hair is limited, so naturally most of the oil will sit on the surface. J Cosmet Sci,52(3):169-84 (2001).
2. Coconut oil has been used as a prewash treatment in half head tests where half the head is treated with oil and the other half isn't. The hair was combed post wash and there was significantly less damage/breakage on the coconut oil treated section (meaning much much less protein was collected from the comb). J Cosmet Sci., 50, 327-339 (1999)
So the debate will always rage on about whether oils are moisturising or not. I think that coconut oil is unique because much like water it can penetrate the hair. It's moisturising properties arise because it is an oil and therefore can help the hair hold on to the water. I don't think that coconut oil can be used on its own though, I think it needs some companions too......like water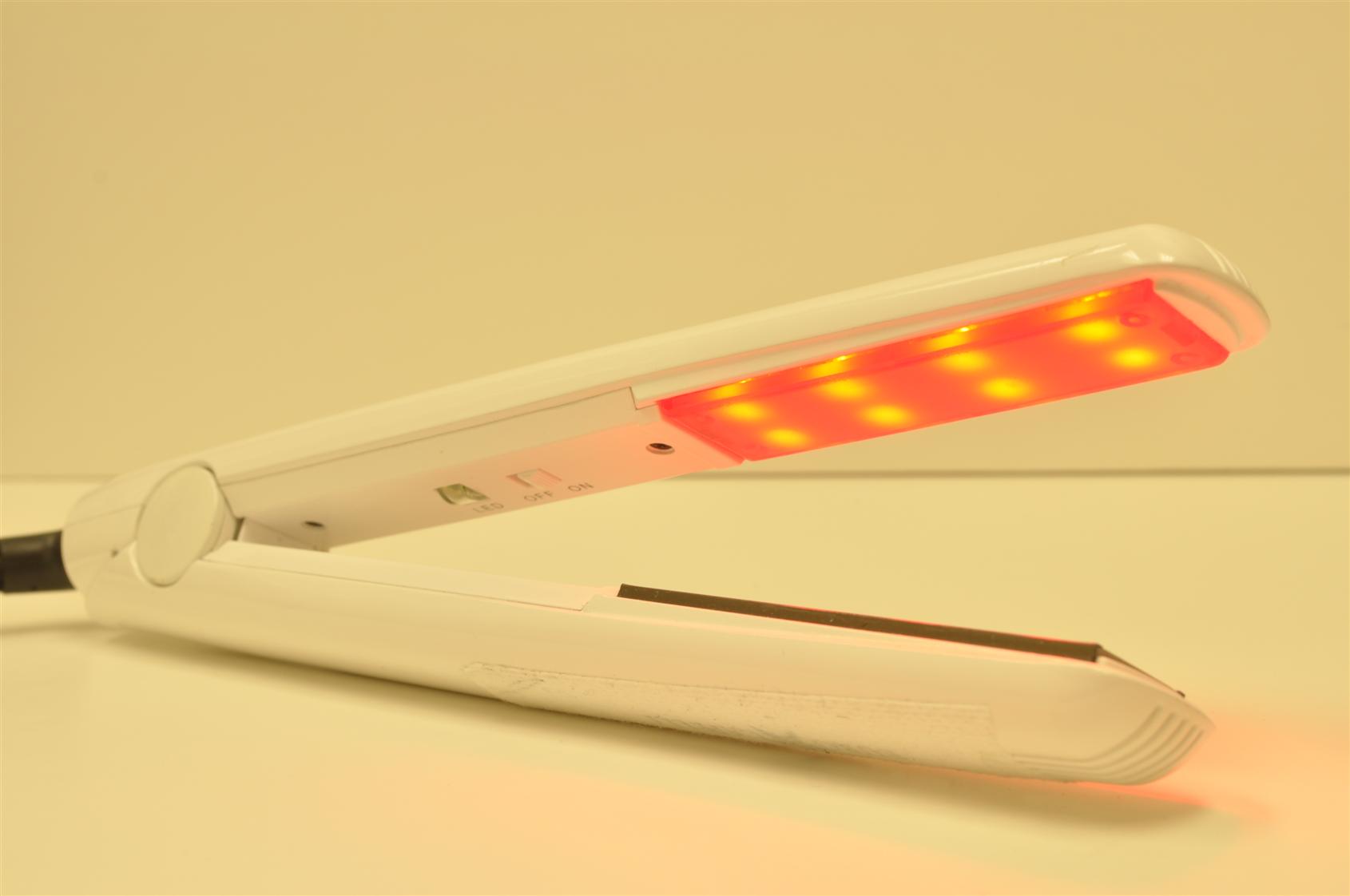 Hair Care Clip with Ultrasonic Far Infrared Rays
Ultrasonic & infrared hair care clip/infrared hair straightener/ultrasonic hair straightener/laser hair iron/keratin therapy
1)It is not a hair iron but a professional hair care clip which can make your hair more healthy and shiny with ultrasonic and far infrared rays
2) HEATING-ALWAYS A KIND OF HURT TO HAIR
Swollen with the heat, the hair squama expands, which causes the crisis of water loss and protein dissolution even during hair care process
This hair care clip can solve the problem perfectly
3) FOUR STAGES OF THE ULTRASONIC COLD THERAPEUTICS
Routine care-densify the hair cuticular stratum-water locking and wet keeping
Periodic reconstructing-reconstruct the tissue and remedy the gap
Hair dying-color selecting/color fastness/color polishing-completely removing, densifying the pigment molecules, shutting gaps of the hair cuticular stratum
Posting-heat preservation/curl keeping-replenishing the stuff, remedy the gap
4) FUNCTION OF ULTRASONIC
Water molecular structure exits in 3 statuses:
solid below 0 degree, liquid under normal temperature and gaze it above 100 degree, with the help of dynamic wave vibrating 36000 times/seconds, the ultra-micro molecular of the water and protein can penetrate directly into the cortex. Magnetic wave vibrating device can gasify the water directly and change the structure of the molecular under normal temperature and with the help of hair infrared rays, the damaged hair will be recovered directly, without heating and swelling, causing less expansion of hair squama.
Keratin Cold Therapeutic!!
Ultrasonic & Far-Infrared hair care iron
Infrared hair care treatment
Ultrasonic & far infrared hair straightener/iron, hair care treatment with CE/ROHS certification.
Keratin Cold Therapy!!
Product Description:
This is the product to deliver and maintain the Unprecedented Stunning Gorgeous Hair.
This is not a hair straightener or flat hair iron, but a next generation technology for hair beauty, which is very successful and popular in Japan & Italian markets.
It provides the superbly nonabrasive cleaning of the hair cuticle layer, and super changes the proximal scale with quintessence, completely rejuvenises the degra.
HAIR HOLISTIC 561-372-5354
Serenity Face & Body

Imagine...
Lying comfortably on a cushy massage table, warm and safe. Soft restful music playing in the background, gently lulling you into complete relaxation. Pure essential oils gently dropping on your back, almost like a light rain. Your back being gently massaged, soothing and relaxing as the essential oils penetrate the muscles for healing.
Words cannot accurately describe the total sensory experience of a Raindrop Therapy session, but they can describe the health benefits.
During Raindrop Therapy, a series of therapeutic grade Young Living Essential Oils are dropped along the spine. Each oil is smoothed up the spine and back muscles using light feathering strokes, called "effleurage". Then specific massage techniques developed by Gary Young, founder of Young Living Essential Oils, are used to help the body absorb the oils by loosening and warming the muscles and skin. Raindrop Therapy is a powerful, non-invasive technique using the antiviral, antibacterial, and anti-inflammatory action of several key essential oils.
A growing amount of scientific research show that micro-organisms, such as viruses and bacteria, lodge near the spinal cord contributing to deformities like scoliosis. Since its development in 1989 Raindrop Therapy has been found to alleviate or resolve many cases of scoliosis, dyphosis, and chronic back pain.
Essential oils are some of the most powerful weapons in combating many types of tissue infections. The nine oils used in Raindrop were selected to synergistically combine to:
kill viral and bacterial pathogens
reduce inflammation
support the immune system
ease respiratory discomfort
relax stressed muscles
curb digestive upset
relieve body and joint discomfort
balance energy
lift the spirit
restore calm
increase the ability to concentrate

$95
Raindrop Therapy
$125
Raindrop Therapy with Reiki

these services are performed by Gina Savoy

Suggested companion services: Spiritual and life coaching.

We are located at:

The Wellness Center of Boca Raton

2499 Glades Rd, Suite 109, Boca Raton, FL33434

561-860-6497 Or 561-504-1965
June 30, 2008
Bringing truly natural to sunless!

Introducing the ReVive OrganicsTM line of sunless tanning products.

Our sunless products feature ingredients certified as organic under EcoCert and NOP standards.
The ReVive line begins with our Honey and Nutmeg tanning solutions - 95+% organic, 100% natural.
These solutions do not contain synthetic colors or preservatives.
The ReVive Organics line will be expanded over the next few months with the addition of aromatherapy products for sunless, a pre-tan scrub, emolliant rich tan extenders and moisturizers, a body wash and a self tanning cream.

Using harsh soaps will reduce the length of your tanned look. Use of a gentle body wash helps maintain your tan.

Going Natural? - Try ReVive OrganicsTM
The ultimate in natural tanning.

The ReVive HONEY solution
is all natural and contains over 95% certified organic ingredients. At 9% organic dihydroxyacetone, it is best for Type I and Type II skin types meaning fair to medium skin tones. Featuring aloe vera, Vitamin B-5, erythrulose, the highly moisturizing hylauronic acid, thyme, soothing chamomile, ginger and ginseng. Contains no synthetic preservatives or colors.
HVLP or High Volume, Low Pressure. The compressor or blower which is also known as a turbine system is similar to a vacuum cleaner technology operating in reverse. The guns have a pistol type grip and operate at a pressure of less than 6 psi.

HVLP is fast. An experienced technician can spray a client in 6 minutes or so. It also has little over-spray. Many states have required auto paint shops to switch from spray guns to HVLP systems because studies have shown dramatic reductions in over-spray – better for the environment and for the applicator.
In our lab, we are able to spray with HVLP without exhaust fans with virtually no over-spray.
Skilled technicians are very proficient at handling detailed application with HVLP and use 1.5 to 2 ounces per client. Spray technique is very important.

The key is to spray from about 4 to 6 inches. We have some salons call us about excess DHA solution usage with HVLP. After some discussion it was discovered that technicians were spraying at distances of 2 and 3 feet.


HVLP compressors are generally louder than those for airbrush. We work with Accuspray and their new unit operates at between 65 and 70 decibels. While this is about the level of a radio or street noise, it can be too loud for some environments.
Revelation Exfoliating Spray
This unique spray was designed for people on the go who have not had time to properly exfoliate but want to ensure the best results prior to DHA application.Enriched with concentrated fruit and flower extracts to purify blocked pores and sweep away dead skin cells. Salicylic Acid creates a dynamic fusion, bringing skin to the proper pH level to best absorb the color component.Organic Micro spheres oxygenate, refine and polish skin texture to leave it clear, smooth and primed for any sunless application. Aloe Vera nourishes and hydrates the skin while Retinyl Palmitate encourages cell renewal, enhancing your skin's youthful appearance.Enriched with powerful anti-oxidants like Lemon Balm extract and Grape Seed extract which assist in firming the skin while preparing an optimal environment for a sunless tan.Revelation ™ Pre-Tan Exfoliation Spray has a fresh fragrance of Juniper Breeze.
add it for $10 to a Tanning service




Toned™ Pre-Sunless Scrub
is the first step in the Toned™ Tanning System to exfoliate and smooth skin to help deliver a more even, natural-looking sunless tan. Apply this luscious indulgence and polish your way to smoother, softer, more radiant skin. Our soothing formula gently exfoliates with microbeads and deep cleans with alpha-hydroxy to smooth skin's texture for a more even application. Pamper yourself for your ultimate sunless tan as the fruit slices scent lingers after you rinse and is pure decadence.

Revelation Sunless Body Wash - 8oz.
Sunless tans can be destroyed or hindered by using everyday soaps when showering. This formula is designed for the avid sunless tanner. This purifying formula is pH balanced with encapsulated Jasmine Bio-Ester beads which gently remove dead skin cells, minimizes oils and creates the ultimate hydrating explosion. The Jasmine Bio-Ester beads actually dissolve as you wash them into your skin.Enriched with mild cleansers and Vitamin B5 to help restore softness and smoothness to your skin with each shower or bath. Contains rich botanical moisturizing complex of Glycerin, Jojoba oil, Grapefruit Seed, Vitamin C, Vitamin E and Tapioca Starch to balance and restore the moisture of your skin.Use daily a few days following your sunless tan to brighten and even out dull sunless color without stripping your tan. Lather up with an exotic fragrance of Island Apricot Sunburst
Revelation Tan Extender - 8oz.
Enriched with a new generation of specially formulated rich emollients, vitamins, antioxidants and fortifying botanicals. The Revelation Sunless Tanning Extender is lavish, moisture rich lotion designed to be used daily between your sunless tanning visits. Enriched with a new generation of specially formulated rich emollients, vitamins, antioxidants and fortifying botanicals to protect and hydrate your skin, helping to extend your tan while keeping your skin soft and smooth. Revelation™ Sunless Tanning Extender also contains a unique concentration of DHA, Erythrulose and Coffee extract for a triple bronzing effect. Alpha Lipoic Acid works as a powerful antioxidant to assist in diminishing the appearance of fine lines and wrinkles. This hydrating body lotion gradually builds existing sunless and UV tan color with each application. If used daily, the color received will resemble a rich, golden brown color.Hydrolyzed Collagen promotes cellular repair and assist in promoting a youthful appearance. Blends of citrus and vanilla notes of fragrance add a special treat as you indulge in this masterpiece of a tan extender.
Revelation Pre-tan Scrub - 8oz.
This is Phase 1 of 5 within the Revelation Sunless tanning series. This Pre-Tan Exfoliating Scrub is designed to be the ideal product to be used in the shower the day of a planned sunless tan.This formula smoothes away dry, rough skin with dual action exfoliants, Alpha-Hydroxy Malic Acid and a mild Glycolic Lactic Acid, resulting in a more even, natural looking sunless tan.The antioxidant power of Bilberry extract provides the capability of protecting cells against damage from unstable oxygen molecules which we know 'as free radicals'. In addition to natural fruit exfoliating acids we added physical exfoliators, loofah like particles, that gently exfoliate dead skin cells and rejuvenate your skin with the healthy antioxidants your skin needs. Using Revelation™ Pre-Tan Exfoliating Scrub will dramatically increase the end result of any sunless tan.Revelation ™ Pre-Tan Exfoliation Scrub features iced cranberry as a fragrance.

/